Leader standard work: definition and importance
Leader standard work (LSW) refers to a set of structured routines and practices that managers at all levels perform on a recurring and consistent basis. In other words, it describes how standardized tasks are to be carried out in terms of cost, quality, deadlines, and safety.
Through this standardized framework, team leaders are guided in their day-to-day responsibilities. They can focus on strategy development, critical tasks, and business priorities. Management standards provide the basis for effective leadership by consistently managing people, processes, and performance.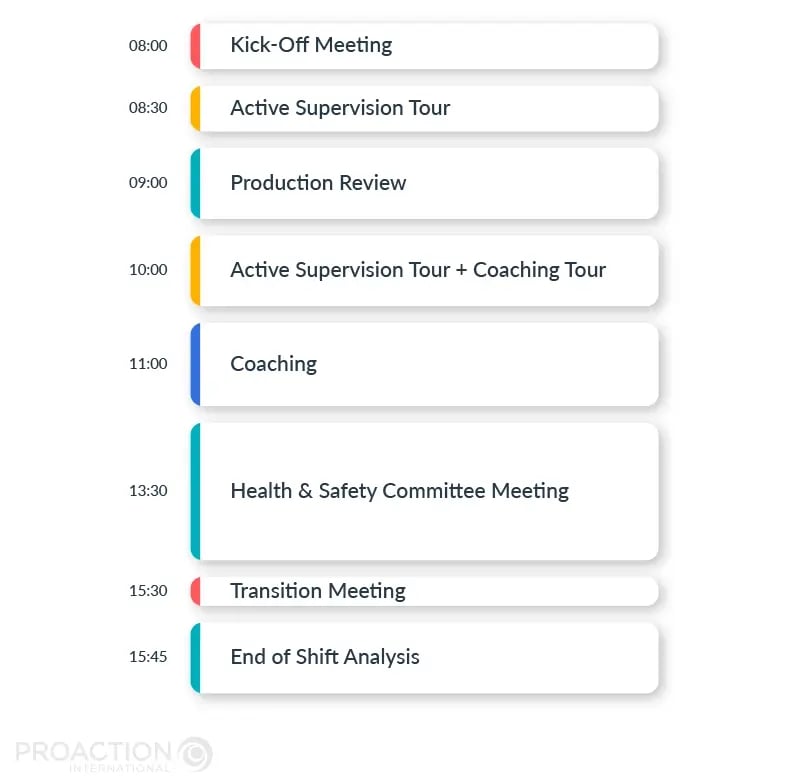 The leader's standardized work plays a vital role in several ways. It:
Brings consistency to leadership practices;
Creates a stable and productive work environment;
Encourages interaction between team leaders and employees;
Promotes proactive control;
Improves team

engagement

and encourages accountability;
Helps identify problems, bottlenecks, and opportunities for improvement;
Facilitates the sharing of proactive management practices within the company;
Standardizes processes throughout the organization;
Contributes to the development of

management skills

.
Standard work applies to leaders at all organizational levels, from frontline managers to middle managers. In fact, it makes for more consistent, solid, and effective leadership.
What are the key processes of leader standard work?
The key elements of leader standard work typically include the following:
Proactive Gemba Walks
The team leader regularly goes out into the field, where value is created. He can do visual controls through recurring inspections and direct observation and interact directly with frontline workers. Based on a Japanese methodology that draws on Lean Manufacturing and Kaizen, Gemba Walks (or floor tours) are used by most global manufacturing leaders. It enables the manager to observe daily on-site operations, better understand the working environment, solve problems, and make informed decisions based on real-time information.
Standard meetings
Leader standard work includes structured, recurring meetings (daily meetings, for example), during which essential topics are discussed, information is shared, and every team member is given the opportunity to express himself. These regular meetings help to establish more effective communication and collaborative effort.
Analyzing performance indicators
The team leader regularly reviews relevant performance indicators. This monitoring enables them to assess progress, identify trends and make decisions based on this measurable data. It helps him stay informed about the company's state of health and take corrective action if necessary.
This standard element of the leader's work emphasizes the importance of monitoring key performance indicators (KPIs) and using the metrics obtained to drive continuous improvement.
Visual management
Visual management uses visual cues and tools to communicate and manage standardized work practices effectively. The manager provides clear, visual representations (tables, graphs, diagrams, etc.) to convey information to employees who understand it more easily, thus avoiding the risk of errors and misunderstandings.

Key elements of visual management in standard work are visual displays (charts, graphs, boards, signs, etc.), performance dashboards with relevant metrics and performance indicators related to standard work, visual work instructions (diagrams, pictures, videos), and Gemba Walks checklists.
Personal development
Leader standard work also promotes continuous learning. Managers are encouraged to devote time to developing their skills, keeping abreast of trends in their industry, and working on themselves to shift their leadership mindset.

While these 5 management rituals are the most common, note that standard leader work can incorporate others depending on the leader's specific needs, objectives, organization, and even sector. Overall, the primary focus is to establish a consistent routine that aligns with the company's reality and fosters a continuous improvement culture.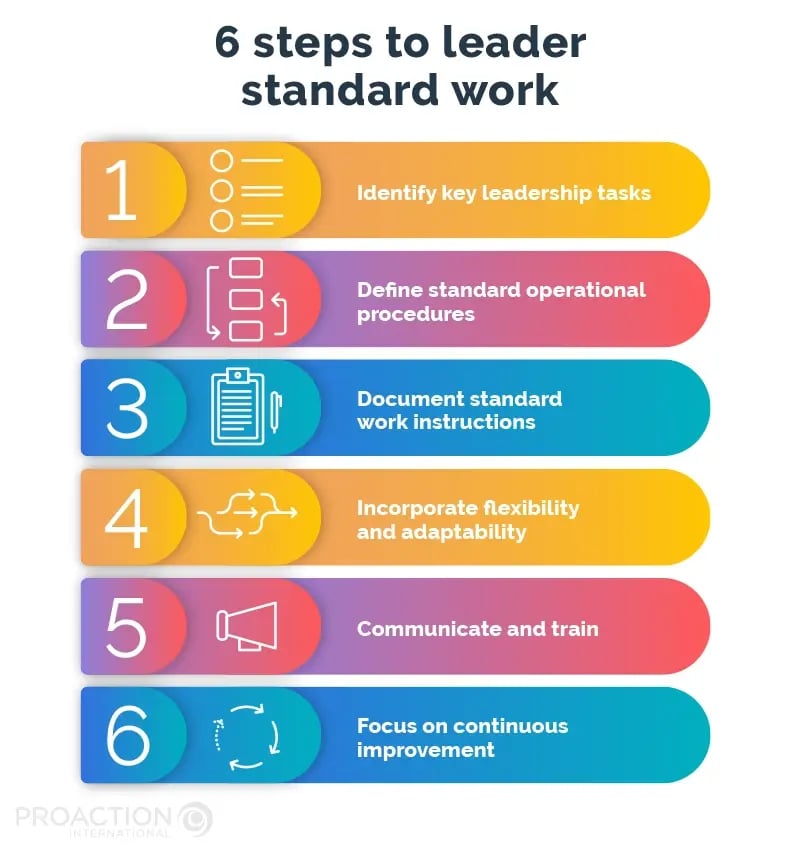 The 6 steps to leader standard work
1) Identify key leadership tasks
Start by identifying the strategic tasks and responsibilities that leaders must perform consistently. These may vary according to industry, organizational structure, and the leadership roles involved.
2) Define standard procedures
Once the strategic work tasks have been identified, develop standard operating procedures (SOPs) that describe each task's specific steps, actions, and best practices. SOPs should be clear, concise, and easy to follow. They should provide guidance on how to carry out structured activities and describe any relevant documents, traditional tools, visual tools, measures, or resources that team leaders may need.
3) Document standard work instructions
In addition to SOPs, creating detailed work instructions for all routine tasks is important. These provide step-by-step guidance, including each activity's frequency, time spent, and expected outcome. Work instructions should address common scenarios, potential challenges, and recommended problem-solving methodology.
4) Incorporate flexibility and adaptability
While leader standard work is essential, leaving room for flexibility and adaptability is crucial. Team leaders need to be able to exercise their judgment, adapt their approach to the unique needs of their employees and situations, and make informed decisions in line with the organization's objectives. Leader standard work should serve as a framework without becoming rigid rules.
5) Communicate and train
Effective communication and training are essential to successfully implementing leader standard work. Clearly communicate this method's purpose, benefits, and expectations to each organization's executive-level leaders. Everyone must understand why standardization is necessary and how it contributes to the company's success.
6) Focus on continuous improvement
Standardized work should not be seen as a static set of instructions. Encourage managers to provide feedback, share ideas, and suggest improvements to existing procedures. Evaluate the effectiveness of leader standard work regularly, and make any necessary adjustments as business needs evolve, management feedback is received, and the operating environment changes.
How can coaching help standardize the work of leaders?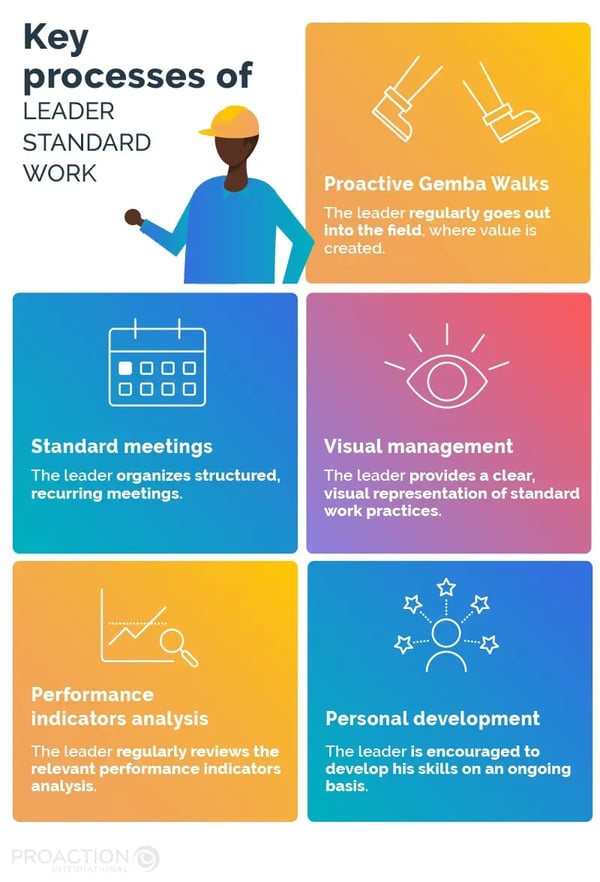 Coaching plays a significant role in supporting, practicing, and improving leader standard work. Here are the main areas in which structured coaching can help leaders adopt and implement this approach:
A clear understanding of leader standard work
The coach helps leaders understand the expectations and objectives of the leader's standard work. In particular, he will explain the purpose and benefits of this approach but also guide leaders in identifying the specific tasks and behaviors that need to be integrated into their routines. In this way, the coach provides leaders with a solid foundation for the implementation of standardized work.
Developing skills
The coach assesses leaders' current skills and identifies areas for improvement in relation to standard work. Through individual coaching sessions, he can provide targeted training and development opportunities to improve leaders' skills in areas such as leading Gemba Walks, setting up effective meetings, routine and structured activities, analyzing performance measures, etc.
Feedback and reflection
By observing leaders in action, the coach can assess their management performance and provide constructive feedback. He can also offer reflection sessions, encouraging leaders to self-assess, identify strengths and weaknesses, and then draw up action plans for further improvements, thus promoting continuous improvement.
Accountability and follow-up
The coach makes leaders accountable for implementing standardized work processes. He conducts regular checks and assesses progress to ensure leaders adhere to standard work practices. He also helps them identify obstacles and develop strategies to overcome them. By providing ongoing support and accountability, the coach helps keep leaders on track, reinforces their experience, and maintains consistency in their standard work routines.
Overall, coaching is a powerful tool for supporting and implementing leader standard work. With such support, they can continuously develop, adapt and refine their management practices, resulting in improved performance, employee engagement, and organizational success.
UTrakk: a turnkey digital solution for leader standard work
Using various digital tools and technologies can significantly improve the efficiency of leader standard work implementation. This is particularly true of UTrakk, a day-to-day management system designed to support managers daily to encourage the right behaviors in operations management, thus helping them progress in their roles and responsibilities.
This multiplatform tool gives managers an overview of priorities, activities, and actions, as well as management and performance data. Here are just a few of the benefits:
Standard work resources, easily accessible at all times;
Fully centralized documentation, including

SOP'S

;
Real-time document updates and control;
Facilitated collaboration and communication;
Accurate data analysis and auditing.
UTrakk adds depth by structuring information, steering meetings, and action plans. This makes it easier to resolve issues on the ground; opportunities quickly generate concrete actions, which in turn accelerates problem-solving and thus team commitment and mobilization

- Antoine Drapeau-Perreault (Partner and CEO Canada, at Proaction International)
Among its many practical features, UTrakk also offers managers coaching sessions, with the added benefit of a management skills progression plan and visibility over key behavior indicators (KBIs) evolution.
Leader standard work: a must for Lean management
Leader standard work provides a framework for team leaders to excel in their management roles. By merging this approach with their day-to-day practices, they contribute to the maintenance and successful implementation of Lean management. By introducing work procedures and structured routines that focus on strategic issues, employee engagement, problem-solving, and personal development, managers can create a culture of stability and continuous process improvement within the organization.
Whatever the industry, standardizing the work of leaders is an invaluable asset, enabling the company to always stay one step ahead of the competition and expect operational excellence.
FAQ - Standard Leader Work