What is
transparent communication

in business?

Transparent communication originated with Open Book Management (OBM), a type of management invented by John Case (former senior editor of Inc. Magazine). The principle of OBM? Provide employees with all the information they need to help them do their jobs effectively and understand how the company is doing as a whole.
A company performs better when its employees see themselves as partners rather than employees. - John Case
So, going back to the concept of workplace transparency, it refers to sharing information with stakeholders in the most open, honest, accurate, and understandable way possible, whether it is positive or negative information. It concerns various subjects such as strategies, organizational changes, performance, etc.
The idea is that all employees, regardless of their hierarchical level, should have access to information about the company. Thus, transparent communication applies to all levels of the organization. Moreover, it concerns all types of companies, from start-ups to large firms, including very small companies.
Transparent culture in the workplace requires an open mind and honest communication, both on the part of managers and employees. However, it is important to note that the principle is not to communicate the smallest thoughts, facts, and actions of each person but rather to ensure that each member of the organization has the necessary information to fulfill his role, perform the tasks assigned, and make better decisions.
What is the difference between
transparent communication

and nonviolent communication?

Although transparent and nonviolent communication are two different concepts, they go hand in hand.
The first one is about open communication: saying things, not withholding information but sharing it. Transparent communication is based primarily on sincerity.

The second is to communicate empathetically and respectfully to facilitate human relationships. It is mainly based on benevolence.
Both can be applied individually, but using these types of communication together will have an even greater and more positive impact. It will be a matter of sharing information transparently and benevolently. A winning strategy for the company that uses it.
The benefits of transparency for both employees and the company
An EY study of full-time workers surveyed around the world found that less than half of them trust their employer, manager, or colleagues:
46% trust their employer

49% trust their manager or colleagues
These figures make it easy to understand how important transparency is in the workplace. Here are some of its many benefits: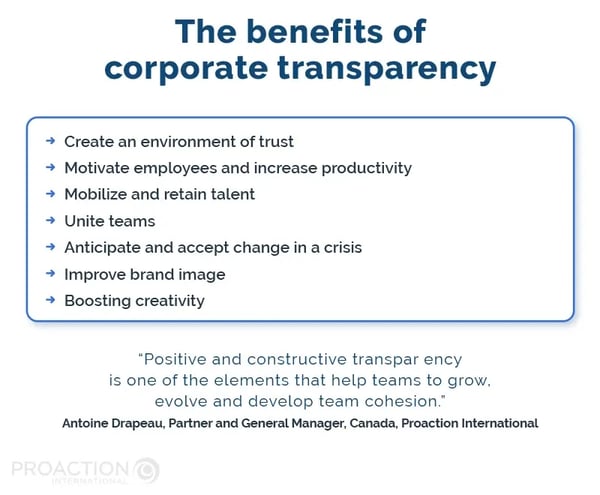 A strong impact on employees
Creating an environment of trust
Having the opportunity to express oneself freely without fear of reprisal meets the need for psychological safety. It helps build trust between employees and makes them feel they can express their opinions. Informing employees about a change or a decision is a very good way to show them that they are respected, listened to, and valued, thus showing that their opinion is important.
Motivate employees and increase productivity
Employee happiness is crucial. Transparency in the workplace has a strong impact on employee engagement and employee satisfaction. Indeed, confident workers who feel good about their job will naturally be more involved and give their best to deliver the work required. By knowing the organization's objectives, they will be better able to implement the means to achieve them.
Mobilize and retain talent
Employees are likelier to stay with a company that listens to them, respects them, recognizes their value, and treats them well. Transparency allows organizations to establish a relationship of trust, and a strong and lasting bond with their workers, thus greatly influencing employee retention and career development. It is therefore an excellent way to limit employee turnover and the costs involved while attracting new talent.
Uniting teams
Transparent communication helps to establish true cohesion between teams and their members. Excellent internal communication builds bridges between departments, promotes honest feedback, collaboration, and idea sharing, and helps solve problems. Everyone works together to achieve the same purpose. It is also a very good way to reinforce employees' sense of belonging.
Anticipating and accepting change in a crisis
Transparent communication in business is about delivering all types of information, whether it is good or bad news. It is important to inform staff in difficult situations (like during the Pandemic, for example) rather than leave them in the dark. This allows everyone to be well prepared, anticipate, accept change more easily, and deal with it together. An article in Forbes magazine revealed that transparency and trust in the company make it easier to solve problems quickly.
A strong impact on the company
Improve brand image
A company's reputation is a key element of success. An organization that is transparent, ethical, and respectful of its employees attracts potential new talents and new customers, partners, and prospects because it instills trust.
Boosting creativity
Giving employees the space to express themselves fully allows them to use their full creative potential, dare to propose new ideas, suggestions, or solutions, and take initiative. A more transparent workplace thus contributes to developing an innovative and rich corporate culture, allowing the organization to remain competitive and successful.
Transparent communication

: should we say everything?

Transparency in business raises the question of whether everything should be said. The answer is no, not necessarily. Disinformation is bad, but so is over-information. The key is to find the right balance because giving out too much information can drown employees in an endless stream of communication.

The best thing to do is to stick to the essentials by sharing with the teams what is most relevant to each of them. Moreover, some information is considered confidential (buyout, fundraising, etc.) and does not need to be known by everyone. Each organization must therefore determine beforehand, but also at the time, which communications can be transmitted and to whom they are transmitted, depending on their nature.
What qualities should company leaders develop to promote
transparent communications

?

Transparency in a company is, first and foremost, a matter for the top management. Leaders and managers must set an example by communicating openly and correctly with their employees/teams. Here are some essential skills for a transparent leader:
Be accessible
Employees should not be afraid to approach higher levels of management. Make sure you are available and accessible so they feel comfortable communicating with you on any topic. Show that you are there for them and that what they have to say is important.
Be honest
In case of important decision-making, take the time to explain the whys and wherefores to your employees so that they can more easily accept the change. If a particular issue arises, communicate it openly and honestly. Whatever the news, people will always prefer to hear it from you. This will also allow you to give them clear and accurate information, rather than distorted by rumors.
Be vulnerable and humble
Being a leader doesn't necessarily make you an expert in everything. If you don't have a handle on a topic or are facing a problem, dare to ask your teams questions and ask for their input. Similarly, if you make a mistake, don't hesitate to say so and take responsibility. It will only make you more human in their eyes.
All this contributes to being accessible, but it also allows employees to have full confidence in you, to see that you are honest and that you need them to make the right decisions, which is very rewarding.
Take the pulse of your employees regularly
Whether it's as a team or individually, it's important to get out of your office and see what's going on in the workplace. Have meetings, talk to your employees during supervision tours, and do one-on-one interviews. Allow workers to express themselves about their daily tasks, to ask you questions, or to raise potential problems. For this, there are practical tools such as:
Agendrix; a software to collect and measure feedback with simple and quick surveys (survey templates, measuring progress with metrics, optional anonymity for employees who prefer).

Officevibe; is a platform designed to facilitate interaction between team members (quick weekly surveys, anonymously written feedback, a widget to prompt peer recognition, survey reporting, and comparison of results between different teams).
Finally, answer employee questions as accurately and honestly as possible.
Take into account the opinions received
Implementing a culture of transparency in your company is about listening to your employees, taking action on what has been said when relevant, and following up to see how things are going. This makes for a constructive exchange and strengthens the bond of trust between you and your staff.
Best practices for
transparent communication

in business

Transparency guarantees a better working environment and is integral to the company's culture. These methods can help you implement them in your organization:
Promote internal communication
This point concerns both top-down and bottom-up communication.
Break down departments, forget closed doors, and create new open workspaces to let the information circulate wherever it is needed.

Communicate good and bad news, avoid the unspoken, and create a climate of trust.

Use constructive feedback to communicate positively with your employees and give them the means to pass on information.

Encourage caring communication so that employees feel comfortable expressing themselves.
Choosing the right tools to communicate internally
To implement transparency in the company, it is essential to adopt management and project management tools that allow you to communicate well. This is true for employees in the office, as well as for those who work remotely. Here, there is no need to burden yourself with a mountain of communication channels. Instead, choose interactive tools that are effective, simple, and adapted to your structure. Here are a few examples of digital solutions to facilitate transparency in business:
Staffbase is a communication platform for companies that aims to facilitate exchanges between employees and the different hierarchical levels within the same organization. Coupled with a web interface, this mobile application allows you to give various information in real-time (news, changes in the structure, HR updates, new material, etc.), import and export data, manage the calendar, and track activities. It also supports social media.

Poppulo Harmony is an internal communication platform offering, among other things, a tool called Digital Signage, which allows communication with employees and customers through cloud-based digital signage software. Designed for both employees and customers, it is particularly useful in manufacturing, where workers are more in the field than in front of a computer.
Establish rituals for sharing information in person
As explained above, a transparent leader needs to keep a close eye on his or her team and be as present as possible. To do this, setting up formal or informal meetings is essential. This can be a classic weekly meeting, regular one-on-one meetings, active supervision tours, team building activities, group meetings over a drink or coffee, a farewell or welcome party, etc.
These types of meetings create a real connection between managers and employees, promote vertical and horizontal communication, and create moments conducive to exchanging and sharing information.
Here are two good examples of managerial rituals that encourage transparency in companies:
The quarterly meeting is designed to bring together the members of a team as well as their manager to review the last 3-month period that has passed (agenda, follow-up of objectives, ongoing actions, future projects, etc.). It is an excellent opportunity to follow the team's work and exchange between collaborators, express themselves, listen, and propose ideas.

The kick-off meeting is a project launch meeting. It brings together the manager, the teams, and the client, if necessary, i.e., all the project stakeholders in question. The kick-off meeting aims to present all the details of the operation to be carried out (schedule, stages, objectives, etc.). It allows everyone to agree, leaves room for questions, and finally, starts the project.

In the manufacturing field, the kick-off meeting at the beginning of the shift is a little different. Its purpose is to highlight the previous day's key points, the day's objectives, and any other information that needs to be communicated to the entire team.
Taking care of the onboarding
Once the hiring process is over, how you welcome newcomers to your company and how you integrate them are crucial, as they will significantly impact how the new employee perceives the organization. From the start, it is important to communicate openly and clearly about the company's operations, objectives, and challenges so that the new employee feels comfortable and confident that he or she wants to stay with the company and participate in its development by giving his or her best.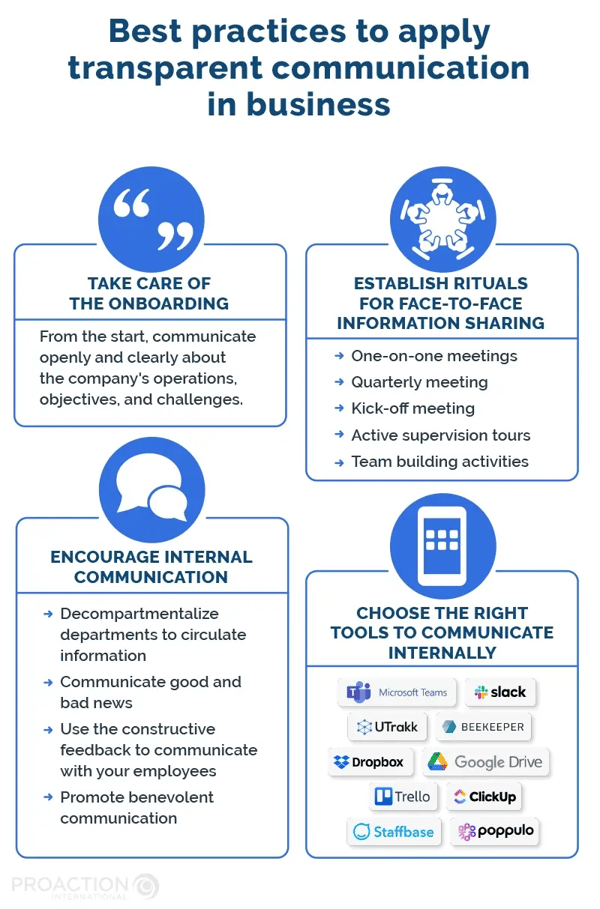 Make transparency a pillar of your business
Often put aside and considered taboo, transparency is now a must, at least for organizations that want to keep up with current trends. It enhances a company's brand image and contributes greatly to creating a positive and proactive work environment, motivating employees to feel more involved and do a better job. The positive impact of transparency on business performance is clear. Transparency is now a real driver of growth and success for leaders who choose to integrate it into their company's culture.