Digital communications and the growing burden on the environment
It has long been argued that the shift to digital communications significantly reduced carbon emissions by promoting efficiency and reducing waste. However, research contradicts this by indicating that by 2025, the communication industry could have used 20% of the world's electricity, hindering global efforts to achieve climate change targets. It further indicates that global emissions from Information & Communications Technology may surpass that of the aviation industry and shipping and grow to 14% by 2040. In essence, the energy consumption needed for an internet search or to send an email is minimal. Still, if you consider that there are approximately 5.3 billion people on the internet today, the small amount quickly escalates. And it is not just our online activities; the gadgets we use and the internet and the systems that support them also contribute to the emission of greenhouse gases.
The data
However, measuring the extent of the digital carbon footprint is difficult since there is controversy on what to include and what not to include. Should the emissions from manufacturing digital devices be included? What about the emissions from technology companies that facilitate digital solutions? It is estimated that manufacturing an average-sized computer and monitor requires at least 240kg (530lb) of fossil fuel, 22kg (48lb) of chemicals, and 1.5 tons of water. In just production alone, electronic devices account for 80% of their total lifespan carbon emissions. The lack of international recycling legislation also means that we are discarding lots of e-waste without strict regulations, averaging to 20-50million tons of waste annually.
Despite the environmental effects, digital communication still plays a pivotal role in business operational excellence and personal use. We cannot avoid using the internet and digital tools, but we can adjust our habits to reduce our carbon footprint. But to change your habits, you first need to understand the impact of some of the most commonly used communication methods.
What is the carbon footprint of emails?
All greenhouse gases are translated to a comparable amount of CO2 in measuring the carbon footprint. For example, the carbon footprint of a single email can be between 0.03g and 26g carbon dioxide equivalent. Considering the millions of emails exchanged daily, the impact, in the long run, is significant. The emissions come from the energy required to power the devices that work with emails and the network infrastructures that facilitate the transfer of emails and data centers that store the email contents. Generally, the bigger the email, the more significant its environmental impact.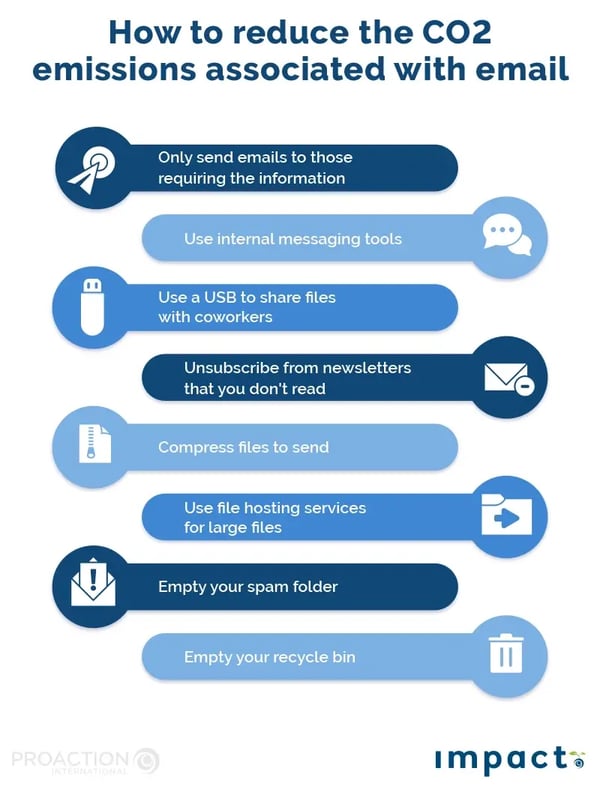 How, then, can you use emails at work to build a greener future? Some of the small and simple changes that will help reduce CO2 emissions associated with emails include:
Avoid unnecessary emails and only send emails to those requiring the information.

Consider using internal messaging tools like Teams or Slack.

Regularly empty your spam folder and recycle bin.

Unsubscribe from newsletters that you don't read.

Compress files if you have to send them via email

When sending large files, use file hosting services and share the link.

When sharing files with coworkers, use a USB.

Delete emails that you do not need.
What is the carbon footprint of chat (Teams, Slack, Etc.)
The carbon footprint of chat tools varies depending on the providers. For example, Teams and Slacks are hosted by green energy providers who report being actively conscious of the implications of the programs on the environment. To better understand their impact, you have to consider the amount of emission when launching the application, opening a conversation, sending an image, sending plain text, and sending an attachment.
The application with the best carbon impact average for one text message is Slack (0.035 g of CO2), followed closely by Skype (0.043 g of CO2), then Teams (0.055 g of CO2), a difference of 36% between the best and the worst.*
*Source : Greenspector

What is the carbon footprint of SMS?
The good old text message is considered the most sustainable communication method. It is estimated that an SMS with up to 140 bytes emits 0.00215g of CO2. But then again, you must ensure you send messages to relevant recipients. Also, keep the texts brief and avoid one or two-worded texts. In addition to helping reduce the digital carbon footprint of business communications, SMS is reported to be the most preferred means of communication between an individual and a business. In the same report, most people preferred text messages for urgent communications 2.5 times more than emails.
What is the carbon footprint of video-conference?
When you consider transportation, food waste, and commute, in-person conferences have a higher greenhouse gas emission than video conferencing. However, a deeper look into video conferencing shows that it also yields a significant amount of CO2. Network data transfer is the biggest contributor to greenhouse gases in video conferencing. Depending on your platform, one hour of video conferencing requires 2 to 12 liters (0.5 to 3 gallons) of water and land area and can produce between 150g to 1000g of CO2.
However, you can drastically reduce these emissions by switching off your camera during video conferencing calls whenever possible.
Carbon footprint of emails vs. SMS comparison
Switching your business campaigns from email to SMS reduces your carbon emissions by almost 5 tons for every 100,000 text messages sent. Additionally, an SMS text has a 95% open rate within 3 minutes of reaching the recipient, making it a more effective communication channel for your business.
What other ways can you reduce d

igital carbon footprint

at work?
Besides making minor adjustments on how you use your business communication channels, other ways your workplace can lead towards a greener future include:
Turn off devices if you won't use them within 2 hours or more. Sleep mode still consumes energy.

Where possible, limit the usage of the cloud and store data on the computer or external storage device.

Use Wi-Fi for an internet connection instead of 4G, which uses 20 times more energy.

Optimize your business web pages.

Instead of Google or Microsoft's Bing, use Ecosia - the search engine that plants trees.

Keep your email signature simple.

Turn off auto-play on YouTube and other video streaming services to avoid unessacery Internet traffic.

Dim your office monitor to reduce energy consumption.

Turn off unnecessary app functionalities and notifications.

Service and repair IT equipment whenever possible. Only replace them when they are beyond fixing.

Opt for second-hand equipment over new equipment, when possible.

Choose equipment that uses less energy and is made from eco-friendly materials.

Be aware and selective of the tech providers you are working with. Find out what their policies toward sustainability are. For example, ask them what energy sources they use and prefer data centers that use renewable energy.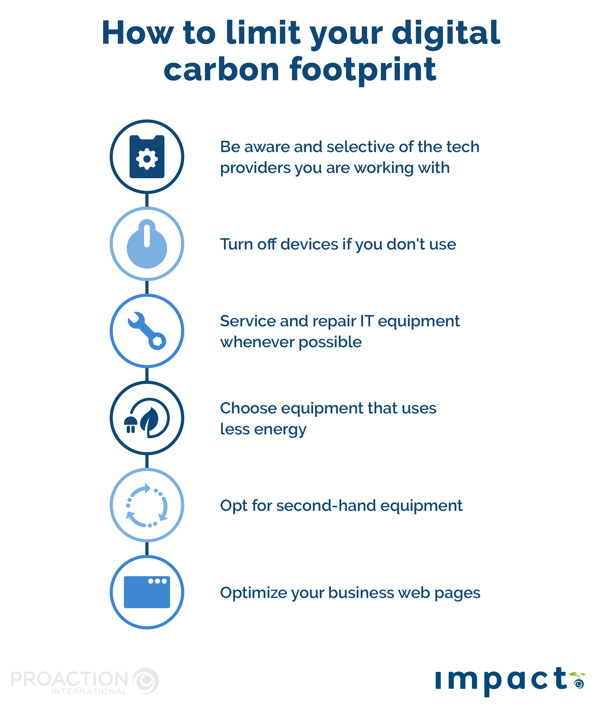 Conclusion
Even with the growing need for businesses to embrace tech solutions, it is still crucial that you factor in the daily impact of your choices on the environment and global greenhouse gas emissions. This does not mean going back to the traditional pen-and-paper methods, but we can make some small conscious changes to our habits for a sustainable future. The goal should be:
To find ways to reduce CO2 emissions

To manage digital tools more efficiently to reduce the amount of energy we use

To offset what cannot be changed by contributing to eco-causes like planting trees

Sharing awareness on digital carbon footprint and how to reduce it