KPI — Key Performance Indicators
To push its financial limits, the company implements best practices to maximize its operational potential. Among these best practices and methods of optimizing operations, there are well-known names such as:
What are the KPIs for?
To ensure the performance of these best practices, Key Performance Indicators come into play. KPIs measurement allows for quicker and more efficient monitoring of operational excellence and the adequate use of good practices than financial indicators (KFIs).
Here are some examples of KPIs that are known and used in the vast majority of companies:
Service rate
Customer satisfaction
Human productivity
Overall efficiency rate (OER)
Re-work rate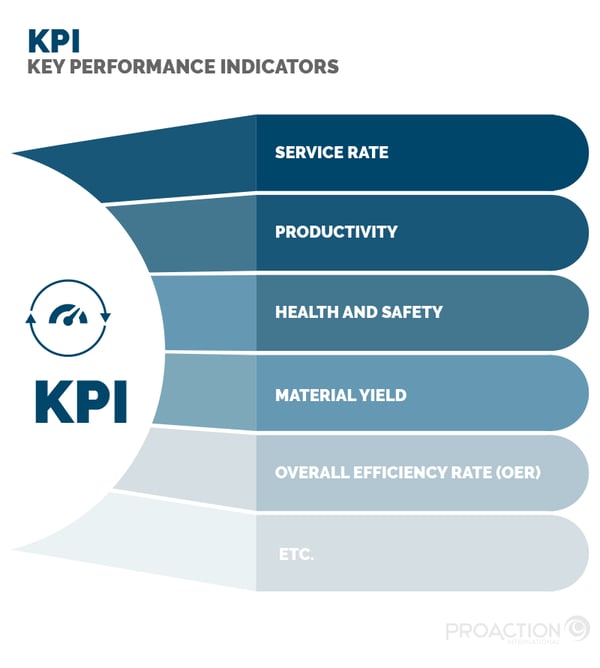 Why don't KPIs guarantee better performance?
With Key Performance Indicators to measure operational performance, best practices and process-based approaches to performance improvement have multiplied.
This gives companies the ability to rapidly scale up, but by constantly adding layers of processes, they are also adding immense weight on their employees and managers in the hope that it will all stick and that teams will benefit on a daily basis from all these best practice deployments...

Jean-Philippe RaîcheCEO Europe/Asia, Proaction International
KKI — Key Knowledge Indicators
KKIs - or Key Knowledge Indicators - correlate knowledge and worker engagement to assess available human performance.

More precisely, these indicators focus on the workforce, the teams that apply the processes on a daily basis. They help determine whether the people who carry out the company's core business have the technical knowledge to sustain the organization and the willingness to develop them.
Some areas of knowledge to be assessed include:
Technical knowledge
Procedural knowledge
Organizational knowledge
Each individual, in a company, contributes knowledge through their mastery and their willingness to harness it for the benefit of the organization. - Jean-Philippe Raîche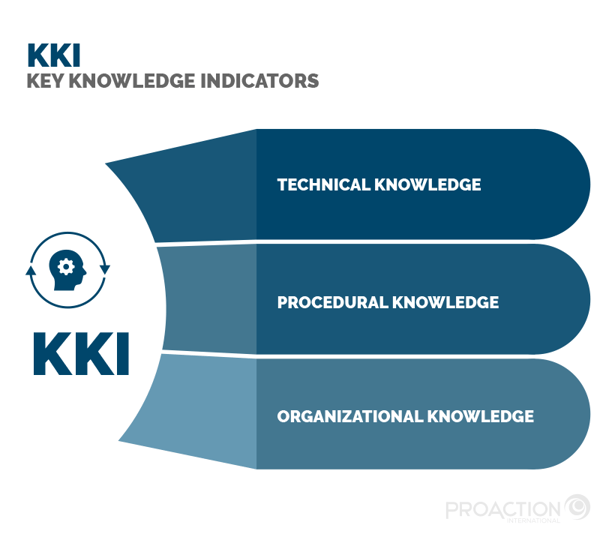 If each employee possesses the required level of theoretical and practical knowledge for their activity, those who manage them must also know their role in driving the operational and financial performance of the organization.
KBI — Key Behavioral Indicators
The strength of the company lies in the managers' ability to appropriate good practices and to implement them on a daily basis with their teams in order to continuously leverage them. This requires great operational rigor and the ability to mobilize teams.
How do KBIs help improve business performance?
It is thanks to managers that companies are able to generate operational results (KPIs) and financial results (KFIs) that match the company's potential.
Key Behavioral Indicators are used to measure management behaviors that support improved organizational performance.
By measuring the managerial performance of all supervisors (team leaders, foremen, supervisors, etc.), it becomes possible to act on their skills and behaviors through training, coaching, and monitoring their long-term development.
KBIs measures managerial performance from four perspectives:
Management style

Objective Orientation (O2)
Consideration Factors Index (CF2)



Mindset


Organizational Mobilization Index (OMI)
Personal State Index (PSI)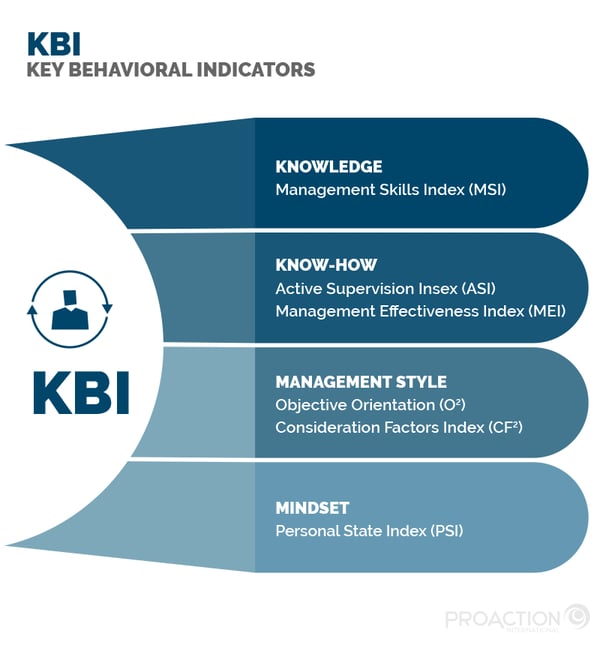 Performance indicators and organizational maturity
The more mature an organization is, the more depth it has. It is therefore logical that several levels of performance indicators exist to provide information relevant to organizational performance depending on the company's stage of maturity.
Somewhat like an inverted Maslow's pyramid, the stronger and more experienced the company is, the more it can look further and deeper into measuring its organizational performance to make a meaningful impact.
Performance indicators: where to start?
Organizations often start by establishing financial performance indicators (KFIs) before setting up KPIs to optimize their operational performance.

When they are ready to go deeper into measuring their organizational performance, they can then assess their available human performance (KKIs) and set up key behavioral indicators (KBIs). They can then implement and track changes that will have a massive and lasting impact on overall business performance.
FAQ - Performance indicators