Gemba Walk checklist questions examples
The most crucial step in the Gemba Walk is to capture performance gaps by observing and questioning operation workers. To do this, you must ask the right questions based on your performance areas.
Here are some examples you can include in your Gemba Walk question list based on your performance areas:
People:
How are you doing today?

Are your goals and priorities clear?

Do you foresee any pitfalls or obstacles by the end of the day?
Process:
Is the team following good work practices (SOP)?

Did the team encounter any technical issues?

Have you identified any opportunities for process improvement?
Productivity:
Is the machine speed set to standard?

Is the shift changeover smooth and without downtime?

Did employees encounter any productivity issues?
Quality :
Is the product packaged properly?

Is it the right pallet size for shipping?

Is the weight and branch number listed on the package?
Work Environment:
Does the work environment meet standards?

Is there debris on the floor?

Are there pallets standing on the floor or between stations?
Health and Safety:
Has there been an incident since the last Gemba Walk?

Is personal protective equipment (PPE) adequate and available?

Does the team have all the tools needed to do a safe job?
Varia :
Do you have any specific comments?
Steps to create the best Gemba Walk checklist
The sample questions above only give you a general idea of the kinds of questions you should ask during a Gemba Walk. To develop a Gemba Walk checklist that is perfect for the specific process you want to evaluate, here are five steps to help you.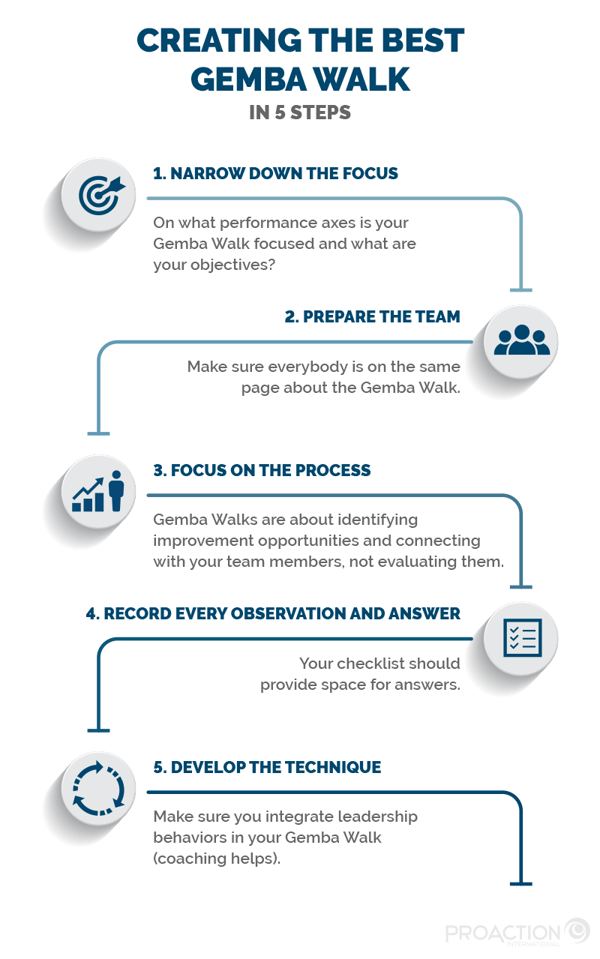 1. Narrow down the focus
For your Gemba Walk to yield great results, you should focus on one or more themes that you want to address. This allows you to focus all the attention on one thing or to make sure you cover all the priorities of your organization.
Thus, your Gemba Walk can target only one or all the performance axes (productivity, quality, lead time, human, health & safety, etc.). It all depends on the objective:
Analysis

Problem-solving

Resource requirements

Innovation

Any other relevant objective
This will allow you to tailor your Gemba Walk checklist to your goals and to ask targeted questions. However, a Gemba Walk is not meant for complex problem-solving. In this case, a distinct exercise is in order.
Note: Identifying standardized tracking metrics allows the organization to send strong messages about its priorities. If front-line managers of all shifts and departments systematically track health & safety, quality, and productivity, work teams will be clearly aware of the value placed on these areas in the organizational culture.
2. Prepare the team
Unless you are doing it alone, inform the Gemba Walk team about the objectives of the Gemba Walk and how to conduct it. This reduces first-time anxiety.
You should also share your checklist with them. If you ask for their input, they might be able to point out a question, detail, or flaw you missed during preparation.
3. Focus on the process
Remember that the goal of a Gemba Walk is to identify improvement opportunities. As such, your questions should be structured to evaluate the process and not the person.
When a person feels like they are being evaluated, judged, or blamed, they may not be able to clear, straightforward answers.
Important! This does not mean that you should not show interest in the person; quite the contrary. The gaps to be captured can be of human nature, i.e., related to individuals' well-being, training, skills, competencies, etc. After all, the Gemba Walk is a special time for team members to help them achieve their goals.
4. Record every observation and answer
Every data point you and your team come across needs recording. Your checklist should provide space for you to record the answers to the questions. However, there are tools such as UTrakk that digitize Gemba Walks and make data entry easy. UTrakk also allows you to create an action and assign someone to handle it.
5. Develop the Gemba Walk technique
The supervisor must now be able to execute the Gemba Walk. In addition to having a good checklist in hand, they must develop the right active supervision behaviors to provide their team with the support they need to achieve their goals. This includes mobilizing team members, communicating clear objectives, and regularly expressing recognition for a job well done, an initiative, or a good attitude.
A coach is a valuable ally in developing these skills and behaviors and ensuring they are integrated into daily life.
What do you do after a Gemba Walk?
After completing the Gemba Walk, the next step includes setting up a meeting. This meeting focuses on compiling feedback and the different team members' views on process improvement and drawing an actionable conclusion. Some of the things that occur during the meeting include:
Discussing the methods used in the Gemba Walk and whether they were effective.
Identifying the value and non-value activities in the process and eliminating the latter.
Clarifying and documenting the discussion points and details that need

follow-up

on the next Gemba Walk.
Sharing improvement views and creating an improvement plan based on the feedback and observations recorded from the Gemba Walk.
Comparing past results to see the trends in results and implementation.
Lastly, coming up with a

follow-up

plan to check how well the suggested improvements have been implemented.
A Gemba Walk checklist is not like any other checklist. Most of them usually serve as a mere reminder. A Gemba Walk checklist plays a role bigger than that. It is the difference between a successful Gemba Walk and one that fails.
Learn more about the best Gemba Walk checklist
Approaching the Gemba Walk with a checklist ensures you collect all the data you need for continuous improvement. It also ensures that you remain structured and collect high-quality data. However, there are far too many details to consider, data to collect, and forms to fill out. It is impractical to walk around with that huge file. You must pick between an effective Gemba Walk or a small file.
Luckily, with a tool such as UTrakk, you don't have to make that choice. It allows you to conduct a Gemba Walk without carrying any physical forms or files. It simplifies data collection and entry so you can conduct a hassle-free Walk.