There are 3 main types of investments that will help you recession-proof your business and emerge stronger on the other side of an economic downturn:
1. Improve operational efficiency
Organizations that focus on improving operational efficiency do statistically better than those that aggressively cut employees to survive a recession.
They rely on the following:
Process and workflow optimization
Updating and improving management tools
Lean Manufacturing implementation
Review of communication structures
What do they get out of it?
Improved morale: Employees who are engaged in process optimization and skill development through training and coaching feel valued and mobilized to be part of the solution. They don't spend their time worrying about their job security.
Sustainable gains: Re-examining every element of the company's operation during a downturn to optimize and streamline it can permanently reduce operating costs. When demand returns, costs will remain low due to optimized processes, and profits will grow faster than the competition.
2. Develop performance management maturity
The 2022 Organizational Performance Barometer, a survey report based on 600 organizations in Quebec and France, shows that only 17% of companies have reached a "relevant" or "agile" level of performance maturity. Most rank between levels 2 and 3 of the five-step ladder.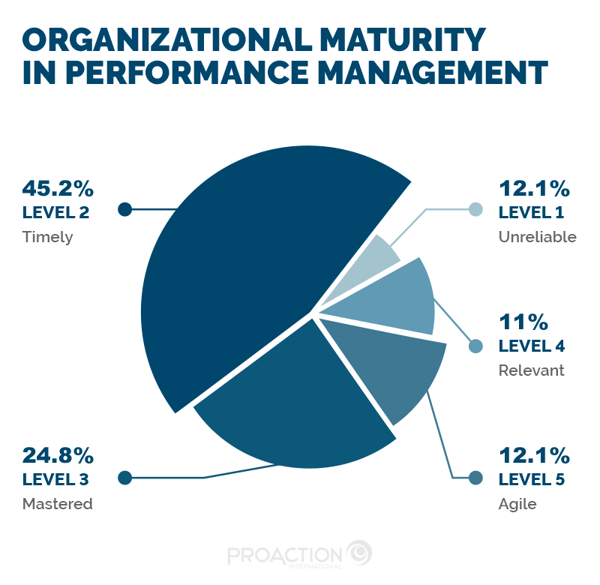 Source: 2022 Organizational Performance Barometer
To improve your organization's management, you can draw inspiration from best management practices that systematize the measurement of non-financial performance indicators and metrics. You will then be able to see trends coming and act proactively rather than being at their mercy.
3. Accelerate the technological transition
Economic slowdowns bring challenges that digital transformation can address and opportunities.
For example, retail businesses can offer online shopping options to make purchases easier for their clients, thus increasing their sales (and their bottom line) even in hard times. Even small changes to a website or social media strategy can help boost revenue streams when the recession hits and last when the economic conditions get better.


The benefits of a well-developed digital strategy are numerous and proven:
Better visibility and resource management
Increased organizational agility to adapt to the unexpected
Cost reduction
Smoother supply chain management
Better customer experience
Faster product development
Better human resources planning
Investment freeze: don't fall into the trap
A KPMG survey of 503 small and medium-sized businesses indicates that 61% have taken preventive measures to mitigate the short-term risks of an economic downturn. These measures range from a short-term hiring freeze to a temporary halt to digital transformation plans:
Four in ten (41%) Canadian CEOs have instituted a hiring freeze, and almost half (49%) are considering reducing their workforce in the next six months.


37% have paused their digital transformation strategies to mitigate the short-term risks of a recession, and one-third plan to do the same in the next six months.
Dino Infanti, tax partner at KPMG in Canada, explains that while these measures help companies to remain resilient in times of economic uncertainty, long-term growth requires employment or maintaining strategies and investments.
It's about trying to balance a potential recessionary period - managing costs and cash flow, taking a break from digital - while recognizing that all of these things are critically important to achieving growth, continuing to invest and reinvest in digital, transformation, talent development, etc.

Dino InfantiTax partner at KPMG in Canada
Instead, Stephanie Terrill, partner at KPMG, says companies should follow the lead of small businesses and medium-sized ones, which are less likely to pause their digital transformation temporarily.
Digital leaders know that by embedding agility, responsiveness, and flexibility into their operating models and corporate culture they build trust with their employees and customers, stabilize revenues, and minimize earnings erosion. [...] There are ways to maintain your competitive advantage and improve productivity and operational efficiency without resorting to extreme solutions. [...] There are ways to keep your competitive edge and improve productivity and operational efficiency without resorting to extremes.

Stephanie TerrillPartner and Business Unit Leader, Management Consulting at KPMG in Canada.
26% productivity gains, now we're talking
For manufacturer PH Tech, for example, investing in adopting best management practices, process optimization, and digital management software increased plant productivity by more than 26%.
The operational gains have resulted in a 2% labor savings and reduced its operator-to-machine ratio, a necessity in times of labor shortages.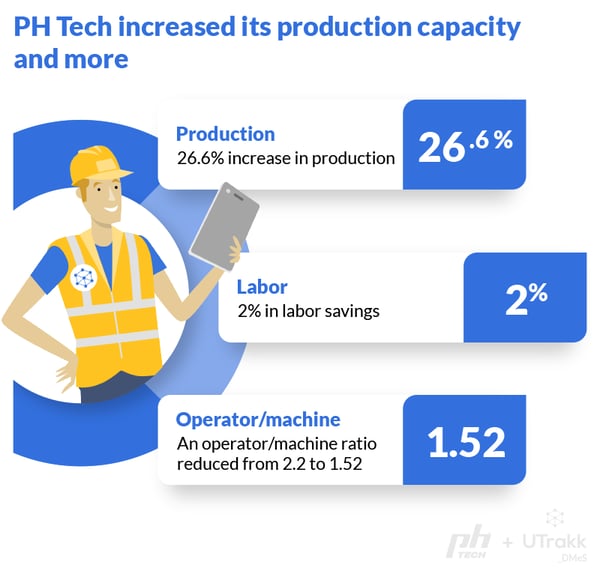 This article dives deeper into PH Tech's performance improvement approach with more results and testimonials.
It's happening now
People often think they are too busy to invest in strengthening their operations and management. However, it is when a company is under the most pressure that we can most effectively identify weaknesses and optimize processes. By rethinking how we do things with current employees and infrastructure, we can give teams a break, greater capacity, and agility

Jean-Philippe RaicheAssociate at Proaction International
Be prepared when the tide turns. Start planning now.
Get an audit of your processes and technology maturity to know where and how to invest.
Invest in your employees so that they develop the right management reflexes.
A solid foundation will allow you to weather the storm with less anxiety.
Government grant programs for small businesses and big ones: don't overlook the help
The various levels of government frequently offer subsidy programs for workforce training and new technologies.
These programs can help you cover a significant portion of the training and coaching costs offered by Proaction International and implement a daily management system such as UTrakk.
We invite you to contact your local authorities to find out if programs exist in your area.
Here are some examples of training programs offered by Proaction International that government grant programs can cover:
Government grant programs are subject to change and depend on fixed budget envelopes. Therefore, we invite you to act sooner rather than later while funds are still available.
Navigating through the various grant programs can sometimes be complex for small business owners and even experienced entrepreneurs. However, partner firms such as Ayming, specialists in obtaining government grants, are available to accompany you in this process so that you spend less time filling out formalities and more time managing your operations!