Back
Top 6 Supply Chain Challenges
Global supply chains have made headlines over the past years as we all witnessed how fragile they were to disruption.

The pandemic has strained manufacturing and distribution activities, but it also impacted supply and demand patterns (raw materials, PPE, toilet paper, micro-chips…). Natural disasters, wars, and strikes have also had a devasting impact on supply chain activities.
If anything, industry specialists have learned to plan for the unplanned and ensure solid backup alternatives.
Following are some of the major trends and their expected impact on supply chain activities:
Let's dive into each of these supply chain challenges.
1. Extended Supply Chain Weaknesses
For the past 20 years, companies have considerably extended their supply chain to reduce Cost of Goods Sold (COGS) while leveraging low-cost country manufacturing capacities (i.e., China). In most cases, cost reductions significantly outweighed longer lead times & increased inventory levels.
Before the pandemic, the pendulum was already swinging as companies were re-shoring (or near-shoring).
Many had realized that extended supply chains did not serve well ever-changing consumer demand. Furthermore, many countries such as the US launched re-shoring initiatives to bring back manufacturing capabilities in North America and reduce unemployment.
In light of the recent health crisis, many countries such as the US and Canada have identified strategic industries (PPE, vaccines, food, micro-chips...) for which they want to ensure that they now have a solid and secure domestic supply base.
Natural disasters, a pandemic, and the global economy also force companies to challenge their global supply chains.
The drastic increase in international sea container costs coupled with port and railway strikes or temporary closures has further disrupted supply chains. Therefore, we are witnessing the construction or re-opening of manufacturing facilities in North America.
Companies having to build new facilities or significantly increase their domestic production must hire and structure their organizations. In many cases, required expertise had left the company.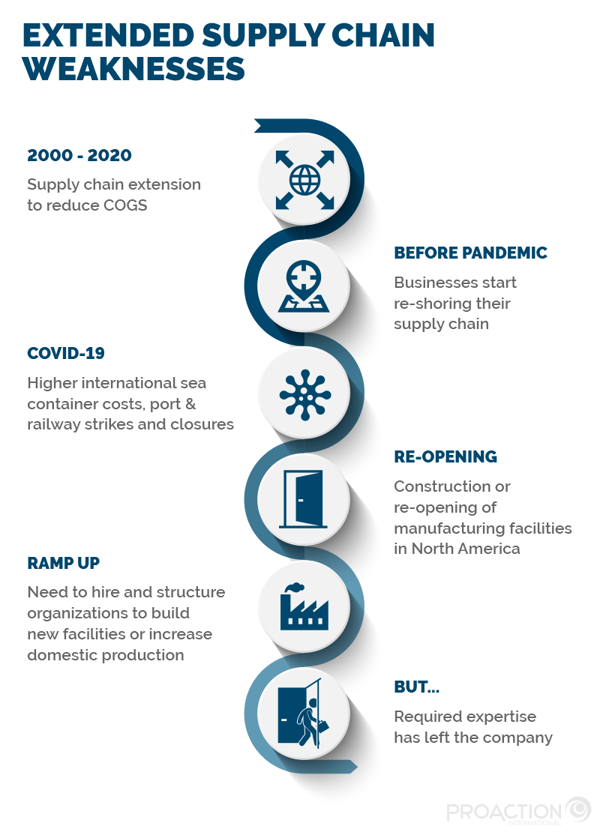 2. Network Reconfiguration
Consumer consumption habits have drastically changed over the past years. The pandemic accelerated many of the trends that we were already witnessing:
E-commerce: Buying habits drastically changed as stores were closed and consumers were forced to stay home. E-commerce sales skyrocketed, and retailers had to review their go-to-market strategies to evolve from traditional distribution to omnichannel-capable networks.


Shorten lead times: Fueled by younger generations, online retail, and Amazon consumers are now expecting their orders to be delivered the same day or the following.


Local suppliers: For environmental reasons and to support their local economy, consumers are increasingly turning towards local suppliers.


Amazon: To meet the customer demand for cheaper and faster service known as the "Amazon effect" and remain competitive, companies must change their distribution networks.

All these factors are causing a strain on traditional distribution networks.
Whereas many companies had built mega consolidated sites, we are now seeing a shift. Distribution centers of smaller sizes, designed to reduce lead times drastically, proliferate in urban or regional areas.


3. Outsourcing
As companies reconfigure their distribution networks to focus on their core business, outsourcing is on the rise.
Third-party logistics providers (3PL) of all sizes are winning new business and must manage rapid growth and ever more demanding customers.
A similar trend toward external sources occurred in Europe several years ago, explaining today's significant maturity gap between players on both continents. Therefore, North American third-party providers must quickly strengthen their expertise and management systems to cope with their growth.
4. Labor Shortage
Supply Chain & Logistics operations are not immune to the global labor shortage crisis. Organizations compete for a limited labor pool and must ensure that they retain their valuable in-house assets.
Therefore, the challenge is attracting and, more importantly, engaging and developing internal talents while coping with increased demand.
Companies must make logistics activities more attractive to young people in a tight employment market.
Indeed, jobs in logistics and transportation have never been considered glamorous or attractive. Organizations must find ways to gamify operations and increase job recognition. Surely, they must leverage the fact that supply chain is now regarded as an "essential service," as it is for healthcare workers.
5. Automation & AI
Times have changed! Poorly lit, dusty warehouses aren't the norm anymore, and we're now seeing more and more highly automated distribution centers that look more like manufacturing plants than warehouses.
Over the years, companies have introduced automation to cope with increased demand, labor shortage, and cost reduction pressure among other supply chain issues.
More recently, cobots (collaborative robots) have further accelerated automation deployment for companies of all sizes due to their low cost, modularity, and capacity to be deployed on existing sites. Moreover, AI (Artificial Intelligence) provides organizations with a wealth of information.
Leaders must understand data well to grasp and maximize the information provided fully, and managers' skillsets must evolve.
Whereas experience was highly valued, AI brings a new dimension to operation management, forecasting & decision making:
Systems can now auto-assess, adjust or propose options to managers.
Simulations and analytics are now central to optimizing operations and ensuring that automation does not become a bottleneck.
On top of managing people, front-line managers also need to be tech-savvy to ensure proper interaction between humans and technology.
Skillsets traditionally required for manufacturing sites are quickly making their way into logistics, such as:
Line balancing
Preventive maintenance
Analytics
Skills matrix
Etc.
6. Recognition of Supply Chain as an Essential Service
During the pandemic, supply chains were often cited as enablers or causes of disruptions. Supply chain executives played a key role in leading teams to ensure manufacturing sites could keep running and customers delivered.
Once perceived as a "necessary evil," supply chain is now seen as an "essential service" to organizations.
Such increased visibility and awareness at the executive levels also outlined the weaknesses of supply chain leaders. Developing C-suite supply chain leaders further will be critical for them to truly take their place on these boards and have their voices heard.
Professional Support to Relieve Supply Chain Bottlenecks
Let's face it; supply chain disruptions are not likely to subside any time soon. Logistics, warehousing, and distribution businesses must optimize their processes and rely on strong management teams to strive in the face of labor shortage, higher prices, lockdowns, and exploding demand.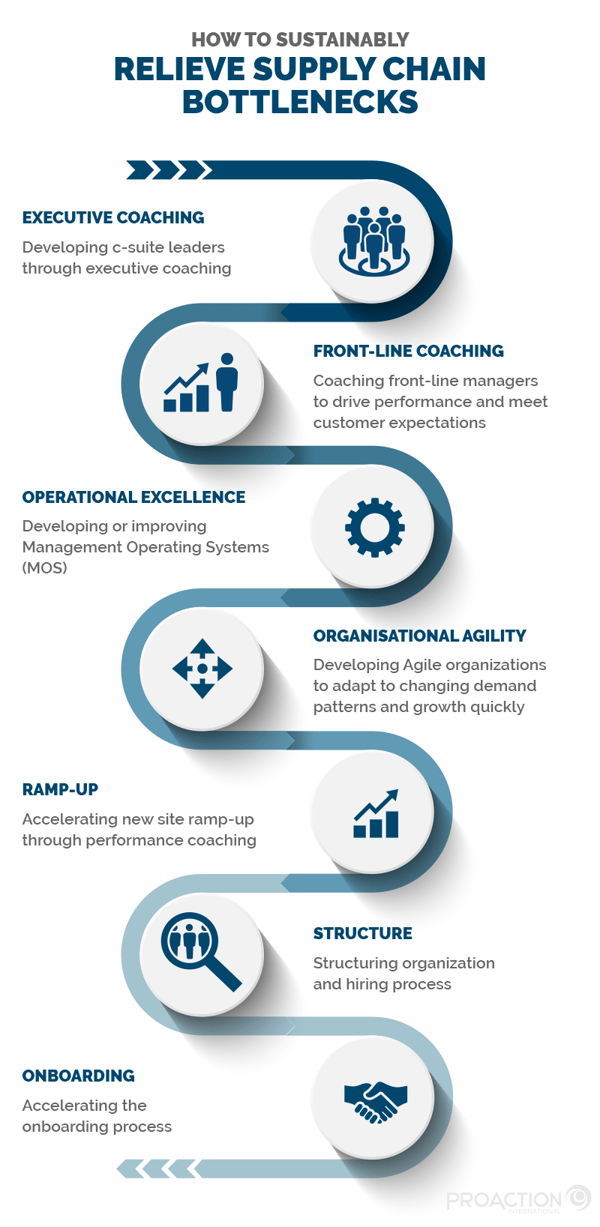 To achieve sustainability in such a volatile context, they can turn to supply chain management experts such as Proaction International to:
Develop c-suite leaders through executive coaching
Coach front-line managers to drive performance and meet customer expectations
Develop or improve Management Operating Systems (MOS)
Develop Agile organizations to adapt to changing demand patterns and growth quickly
Accelerate new site ramp-up through performance coaching
Help in structuring organization and hiring process
Accelerate the onboarding process
Need help achieving sustainable performance improvements in logistics and supply chain activities?