5. Automation & AI
Times have changed! Poorly lit, dusty warehouses aren't the norm anymore, and we're now seeing more and more highly automated distribution centers that look more like manufacturing plants than warehouses.
Over the years, companies have introduced automation to cope with increased demand, labor shortage, and cost reduction pressure among other supply chain issues.
More recently, cobots (collaborative robots) have further accelerated automation deployment for companies of all sizes due to their low cost, modularity, and capacity to be deployed on existing sites. Moreover, AI (Artificial Intelligence) provides organizations with a wealth of information.
Leaders must understand data well to grasp and maximize the information provided fully, and managers' skillsets must evolve.
Whereas experience was highly valued, AI brings a new dimension to operation management, forecasting & decision making:
Systems can now auto-assess, adjust or propose options to managers.
Simulations and analytics are now central to optimizing operations and ensuring that automation does not become a bottleneck.
On top of managing people, front-line managers also need to be tech-savvy to ensure proper interaction between humans and technology.
Skillsets traditionally required for manufacturing sites are quickly making their way into logistics, such as:
Line balancing
Preventive maintenance
Analytics
Skills matrix
Etc.
6. Recognition of supply chain as an essential service
During the pandemic, supply chains were often cited as enablers or causes of disruptions. Supply chain executives played a key role in leading teams to ensure manufacturing sites could keep running and customers delivered.
Once perceived as a "necessary evil," supply chain is now seen as an "essential service" to organizations.
Such increased visibility and awareness at the executive levels also outlined the weaknesses of supply chain leaders. Developing C-suite supply chain leaders further will be critical for them to truly take their place on these boards and have their voices heard.
Professional support to relieve supply chain bottlenecks
Let's face it; supply chain disruptions are not likely to subside any time soon. Logistics, warehousing, and distribution businesses must optimize their processes and rely on strong management teams to strive in the face of labor shortage, higher prices, lockdowns, and exploding demand.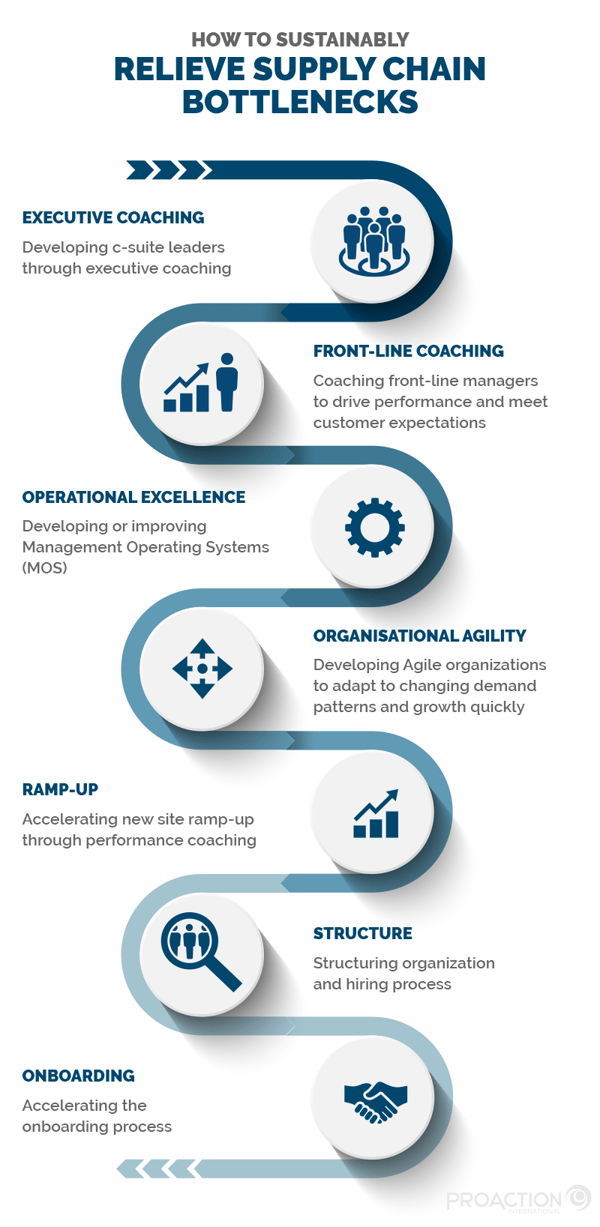 To achieve sustainability in such a volatile context, they can turn to supply chain management experts such as Proaction International to:
Develop c-suite leaders through executive coaching
Coach front-line managers to drive performance and meet customer expectations
Develop or improve Management Operating Systems (MOS)
Develop Agile organizations to adapt to changing demand patterns and growth quickly
Accelerate new site ramp-up through performance coaching
Help in structuring organization and hiring process
Accelerate the onboarding process