Q: What are the impacts of this imbalance in management time?
A: When managers dedicate a significant proportion of their time to administrative activities, and when most of their contact with their team takes place in a context of urgency or reaction, our observations have shown that they are unable to guide performance effectively. Of course, in concrete terms, this impact on performance manifests itself in terms of productivity, but we also observe an increase in potential issues related to worker health and safety, quality assurance standards, the environment, and so on.
Another point that I think is important to mention is that our conversations with proximity managers have shown us that the majority are clearly aware of the situation and understand the gap between their current role and the ideal scenario. So it is potentially discouraging for them, especially if they have tried to improve this poor time management situation without success or without impacting the rest of the organization.
A number of known challenges can therefore arise:
Team disengagement
Demotivation and exhaustion among proximity managers
Absenteeism
Increased turnover rate
Performance decline
Etc.
Q: What is the ideal distribution of a manager's activities so that they can fulfill their roles and responsibilities and have a positive impact on their teams?
A: The ideal time distribution can vary from organization to organization and from one position to another. For example, a team leader, like the captain of a hockey team, must be in the thick of the action with his or her team, so there will be less time to spend on active supervision.
However, when we work with managers who are 100% dedicated to team management, so the equivalent of a team coach, we often favor this ideal scenario with our partner clients: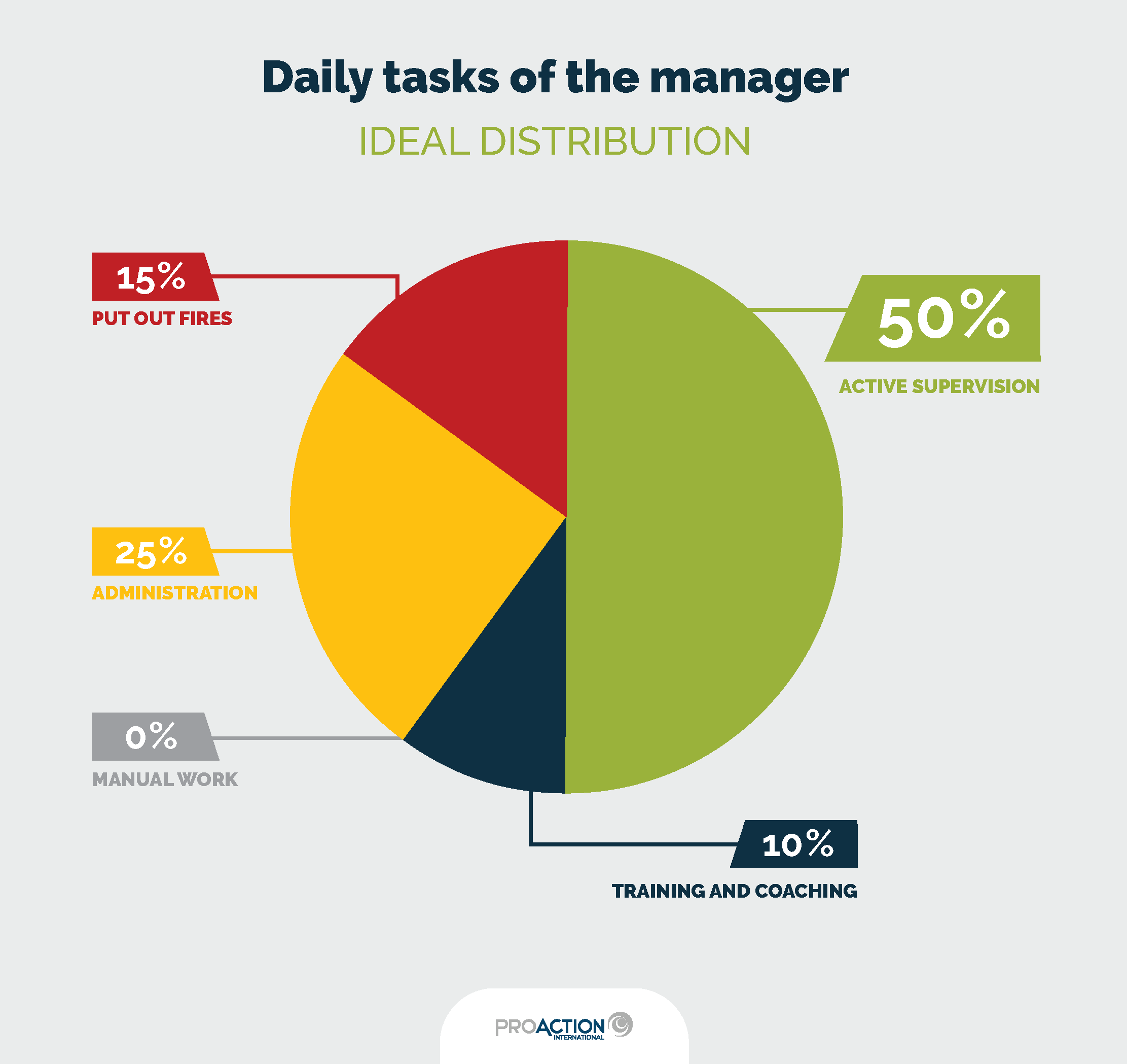 You can obviously see a strong emphasis on active supervision and team support (including employee coaching). This is where the biggest gap from the initial situation is observed.
We are talking about a change in organizational culture where all the members of an organization contribute to creating winning conditions!
Q: How can we turn things around to get closer to this scenario?
A: Each organization has its own unique culture, vision, team composition and challenges, so we can't just recommend a "one size fits all" solution.
The good news is that I have the opportunity to meet many inspiring leaders who demonstrate creativity and commitment in establishing winning conditions to support managers as their roles and responsibilities progress, with convincing results.
Here are some success factors often observed in companies that have achieved significant and sustainable transformation:
Clearly positioning the company's value proposition, communicating and embodying the vision/mission and the values that are the foundation of the company;
Identifying and communicating key performance areas and ensuring the implementation of indicators that allow teams to visualize and understand their impact on the company's success;
Clarifying expectations of roles and responsibilities;
Implementing tools that simplify the daily management of teams and reduce the administrative burden;
Implementing effective, organized communication rituals leading to value-added actions;
Actively involving managers and their teams in identifying gaps and implementing solutions;
Investing in the teams and ensuring that you accompany them in the action to adapt the solutions to their reality!
Q: To conclude, what advice would you give managers who are motivated to adopt best management practices, including better management of the time they spend on their various tasks?
A: As leaders in our organizations, we must start by asking ourselves about the current reality of our company, the experience we want to provide to our managers and their team members, the space we want to give our managers, and the tools we will make available to them.
In closing, I must mention that it is a great source of pride for me to be part of a team and a company entirely dedicated to supporting organizations by being the trigger for change and driving change management and team mobilization!