Synergy Formwork has adopted a five-pronged approach, known as the Synergy DNA, which emphasizes health and safety, quality, partnership, team spirit, and efficiency.
As a trusted leader, Synergy Formwork wanted to do things differently. Isabelle Côté wanted an effective and sustainable solution.
"We were looking for a partner who would understand and adapt to our corporate culture," she says. We wanted them to immerse themselves in our reality. We wanted them to join us, to become part of the Synergy family. Because our employees are at the forefront of all our decisions."
A select partner
Becoming involved in a partner's team is essential for Proaction International: it was, therefore, the perfect choice for Synergy Formwork, which is always focused on innovation and continuous improvement.
At Synergy Formwork, any competent worker who demonstrates leadership can aspire to become a manager. To succeed in this professional transformation, it was necessary to offer coaching to employees to develop their skills.
Proaction International's expertise lies in creating an environment and an approach that contribute to the progression of employees to proactive, inspiring, and performance-generating managerial positions.
When an employee has heart, we want to work with them, says the woman who rose through the ranks of this forward-thinking company. We will do everything we can to help them since they are an integral part of the company's growth. Every employee is part of a whole, part of a solution.

We want to offer our employees a different environmentwhere they feel engaged and valued.
The Synergy DNA was born out of this collaborative approach between Synergy Formwork and Proaction International to emphasize health and safety, quality, partnership, team spirit, and efficiency.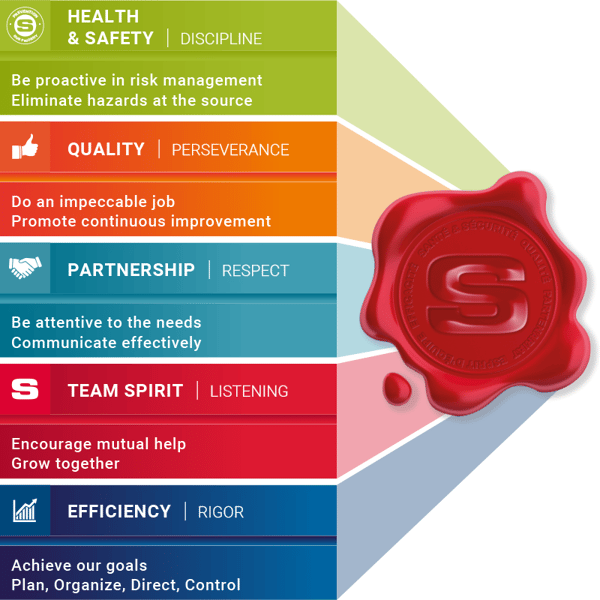 "We deliberately put efficiency last," says Ms. Côté. For us, it depends on the improvement of all the other factors."
Synergy Formwork is proud to offer training, mentoring, and support to allow its employees and executives to surpass themselves, in order to grow within the company.
The intention of this approach is to achieve optimal performance for the entire Synergy team.
Room for growth
Proaction International's philosophy is based on the belief that everyone can evolve, depending on their starting point and potential.
It is vital to make a diagnosis and understand the needs in order to provide the right solutions. Proaction International has knowledge and management behavior measures that allow for a focused and tailored approach to performance improvement approach and specific, measurable objectives.
Thanks to these tools, we have definitely achieved excellent results," says Isabelle Côté. And we've had some nice surprises! Everyone has improved since we began working with Proaction International. We have also made a number of discoveries. Some employees have stood out and we have discovered some very good managers.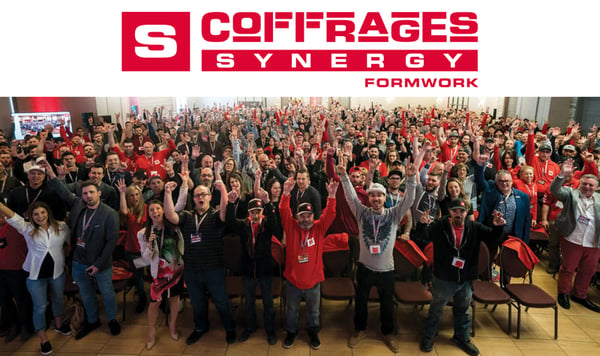 Synergy Formwork is particularly proud to have implemented the first phase of staff improvement.
"Our objectives need to be known by everyone," says the President and CEO. We want to keep improving. We are currently reflecting on the best way to proceed. This type of approach is a work in progress. It is imperative to look at the long term. We still have many challenges ahead of us, but we want to continually provide a stimulating work environment to maintain the pride of our employees and the quality of their work."
Concrete results
With such a performance management project, Synergy Formwork has achieved several major accomplishments. Site teams work together towards a common goal. Communications are more effective. Employees are given the tools to continue developing and growing in the company. "A job well done is important, and the employees are proud of it," says Isabelle Côté with conviction.
For Proaction International's associates, investing in the human capital of a company is essential since it is the basis of its operations.
Thus, any company desiring to follow in the footsteps of Synergy Formwork must have a clear mission in order to obtain a tailor-made solution.
You have to think strategically about what kind of investment you want to make as a business leader. In our opinion, the best strategy for maximizing gains, and above all change, is to focus on human capital. Few companies understand that if the foundation is solid, you can always move forward and keep on growing.
Both partners consider that the key to such an approach is a collective effort and listening.
"It's not a miracle product," concludes Synergy's president and CEO. There's hard work to be done, both by employees and management. You have to be ready to change, but above all to commit to it in full, with the same objectives, and walk in the same direction. And working with Proaction International is a great way to get there: they have delivered exactly what they committed to. "
I am so proud to say that the expertise developed in collaboration with Proaction International in 2018, is still bearing fruit today. It was a partnership that propelled growth through innovation for each and every department at Synergy.

Isabelle CôtéPresident and CEO of Synergy Formwork
Article originally published in French in Revue Industrie & commerce, February-March 2018 edition, p. 56-57 and updated by Proaction International November 30, 2021, Click here to see the original version
Do you want to develop the leadership of your employees and managers? Proaction International's experts offer support based on coaching and training of teams, optimization of tools and processes as well as digitalization of management.