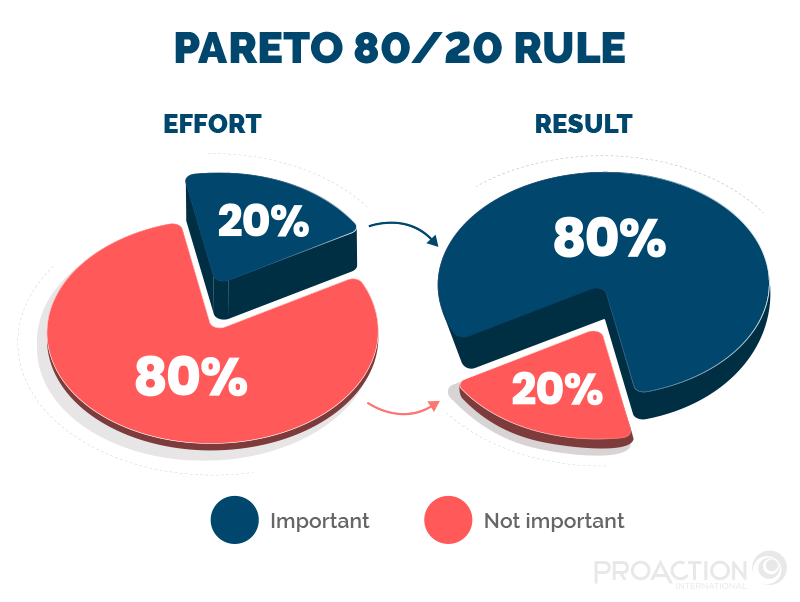 What is the Pareto Principle used for?
Pareto analysis is a simple yet powerful tool for making better decisions and improving key metrics. It helps you to identify what factors are critical to achieving your objectives. This lets you prioritize and focus on the most important tasks and problems first.
Pareto analysis is popular with project managers, business owners, market researchers, and many other professionals who need to understand the causes behind their performance (or lack thereof). It's also necessary for entrepreneurs looking for investment opportunities or startups seeking funding, as well as time management.
How to use Pareto Analysis for better decision-making
It's essential to be able to determine the causes of problems. Why? Because if you don't know what's causing pain, how can you fix it? And if you don't fix it, more issues will crop up.
When deciding what's causing your business the most trouble, it can seem like there are too many variables of which to keep track. But with the Pareto Principle, you can narrow down your options and focus on the most significant issues first.
Example: production capacity is too low
When you can't keep up with customer demand, you can use the Pareto principle to improve productivity instead of adding more workforce to increase capacity.
Identifying all the production steps and working on improving the main contributors will solve more problems than having to go through a recruitment process, especially in a labor shortage context.
The Pareto Principle can help you make a well-informed decision that is to the benefit of your business. The Pareto Principle states that 80% of the effects come from 20% of the causes. If you want to make a real difference in your business, you need to spend the most amount of time focusing on the 20% of things that will give you 80% of your results—and less time worrying about everything else.
Pareto Analysis steps
Pareto Analysis is a systematic method for prioritizing your tasks based on their value to a business. It is a simple and effective way of identifying the most critical missions, ideas, and goals you must implement to achieve your desired results.
Here is a step-by-step guide on how to use the Pareto Analysis:
Step 1: Identify the Problems
To apply Pareto analysis to your problem, follow these steps:
Identify the problems — You must have clear goals before you begin. What are you trying to achieve, or what do you want to change in your life? Do this by creating a hypothesis and research plan outlining how you will achieve those goals.


Collect data — What data and metrics do you need to make sound decisions based on Pareto distribution? You'll find some examples below, but keep in mind that there might be other types of information that can help inform your decision-making as well (e.g., qualitative data).


Analyze the data — For this method to work correctly, it's essential for there to be an objective way of determining which problems affect us most often so that we can focus our efforts accordingly once we've collected them all together in one place.
Step 2: Prioritize and Determine the Causes of Problems
Once you've analyzed your data, it's time to prioritize the issues and determine the root causes of the problems. Remember that Pareto analysis is just one tool in your decision-making toolbox; it will offer a partial picture.
Here's how it works:
First, break down your goals into manageable chunks that are easy to measure.
Then, rate each chunk based on its importance (1-100).
Then calculate the cumulative score for each chunk by adding up all its scores and dividing by 100.
Finally, identify which chunks have the highest cumulative scores and focus on those first!
This approach gives you an overview of where your business stands now and where it could stand in the future if specific changes were made—all without having to spend hours pouring over spreadsheets or reports. It lets you see which areas are causing problems and where improvements will have the most significant impact—enabling you to make better decisions faster than ever!
You'll want to combine this method with techniques like Kano analysis, cost/benefit analysis, and the SIPOC diagram. These tools will allow you to make better decisions about the most critical issues and how best to solve them.
Step 3: Take Action and Get Results!
Once you've identified the most critical problems and how best to solve them, it's time to take action.
As an organization, determine your priorities and what you can do about them.
Afterward, you'll need to set goals for yourself and your team so everyone works towards a common goal.
Once you've set your goals and taken the first steps towards achieving them, it's time to monitor progress.
To create a culture of accountability, you need to assess your progress regularly and celebrate when things go well.
Once you've identified problems and taken action, you must ensure that the same issues don't crop up again. This is where regular communication comes into play.
All these things help to create a culture of accountability, and the more you do them, the more likely your team will be able to achieve its goals.
How to make a Pareto chart
To make a Pareto chart, you'll need to have data. You can acquire this by using an excel spreadsheet or a web-based tool like Google Sheets. You'll also need to decide what kind of Pareto chart you want to make. The most common type is a Pareto chart that lists the causes of problems from most frequent to least frequent, but there are other options.
Once you've got your data, create two lists: one for problems and one for solutions. It would help if you also gave each problem and solution a unique identifier so that you can sort them later on.
Then it's time to start sorting! For this step, take your list of problems and sort them from most important to least important based on their impact (the number of times they occur) or their severity (how bad the outcome is).
Then do the same thing with your list of solutions—sort them by how much impact they have on solving each problem or eliminating its cause, then rank those according to severity if necessary (if you're ranking severity instead of effects).
Concrete example of a Pareto Analysis
The Pareto rule can effectively simplify decision-making for a manufacturing plant manager who wants to increase efficiency in one department.
You could use Pareto distribution by dividing all tasks employees perform into categories—quality control, decision-making, and problem-solving—and then finding out which tasks take up most of their time. This categorization would give you insight into which areas need extra attention so that employees aren't wasting time on things that aren't essential for success!
The Pareto Principle is straightforward, but it can hugely impact your business. Using this analysis tool, you'll discover what's important and focus your time and resources where they're most needed.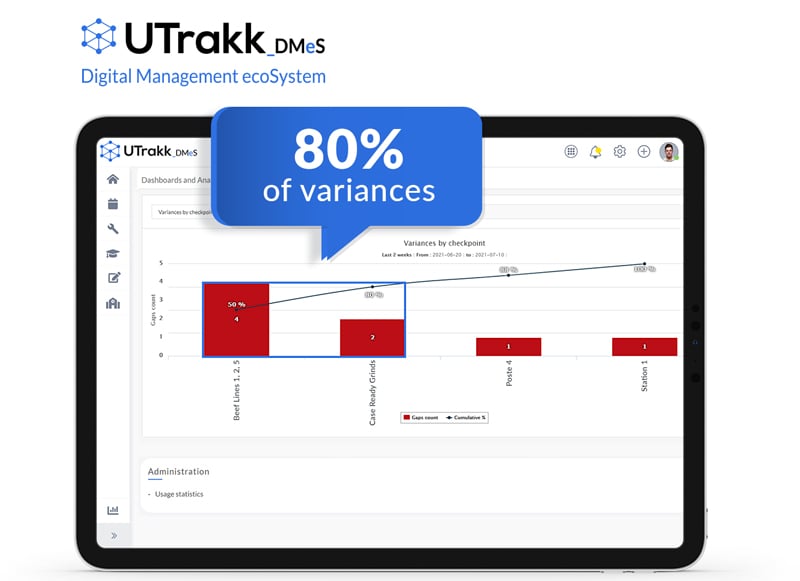 Use the Pareto Principle to make better business decisions
Pareto Analysis is a powerful tool for decision-making and time management. It helps companies gain insight into their operational processes and identify the most critical factors to improve efficiency. To use Pareto Analysis effectively, you must gather your data in a structured format through active supervision tours and adding checkpoints to ensure the sustainability of the solutions you implement.
Once you've identified the critical factors, it's time to take action. Access to management systems such as UTrakk will help make this process easier by helping you cut through the noise and get straight to the heart of your company's most pressing issues.
The key to using Pareto Analysis effectively is knowing and focusing on the most critical factors. Tools like UTrakk allow you to create concrete actions, assign them, and follow up on them to resolve the critical root causes. You can also use a Pareto Diagram in your company meetings (Ritual Meetings) or add checkpoints in your Gemba Walk to ensure solution sustainability over time.
You can't improve everything at once, so it's vital to prioritize what you want to focus on first. Contact Proaction International experts to learn more about how you can use various tools and methods to achieve operational excellence through people-centered leadership and optimization.