What does the term LGBTQ+ refer to?
LGBTQ+ refers to lesbian ("L"), gay ("G"), bisexual ("B"), transgender ("T"), and queer ("Q"). For some time now, the letters "I" for "Intersex" and "A" for "Asexual" have been added to the others. It allows to designate people who are neither heterosexual nor cisgender.
This acronym appeared in the late 1980s to complement and replace the acronym "LGB" to provide a more broadly inclusive, open, and diverse term for different communities.
LGBTQ+ inclusion in the workplace in Canada, the United States, and France
Progress on LGBTQ+ inclusion in the workplace varies from country to country. Here is a brief comparison of the situation in Canada, the United States, and France:
Canada
In 2018, a survey conducted by Pride at Work Canada found that 62% of LGBTQ+ employees are fully coming out at work, while 32% have experienced discrimination at work because of their sexual orientation or gender identity.
United States
In 2020, a BCG survey found that only 50% of LGBTQ+ employees feel comfortable talking openly about their sexual orientation or gender identity at work;
A Human Rights Campaign study found that 46% of LGBTQ+ employees remain closeted at work, and 53% have heard homophobic jokes or comments from colleagues.
France
In 2020, an Ifop survey revealed that only 54% of LGBTQ+ employees are open in the workplace;
The same survey found that LGBTQ+ people are more likely to experience harassment at work. 23% have experienced adverse actions or comments about their sexual orientation or gender identity. 
It is important to note that there are also significant differences within countries. For example, some employers are more open than others, and some regions or industries are more LGBTQ+ friendly than others. However, these statistics provide a general overview of LGBTQ+ inclusion in these three countries.
Why is LGBTG+ inclusion important in the workplace?
Fostering inclusion in the workplace is, first and foremost, important from a human perspective. 
We are a diverse society, and everyone must find his place without having to justify themselves based on gender, age, race, sexual orientation, Etc.
That is especially true for the work environment, which must adapt to societal changes. Nowadays, the implementation of inclusive workspaces in organizations that respect and value the diversity of employees has become indispensable.
Diversity and Inclusion in the Workplace: Benefits for Employees and the Company
Diversity and inclusion in the workplace are beneficial for all stakeholders.
Employees: being able to bring your "true self" to work
As a team leader, it is vital to understand the idea of being able to be yourself at work. This concept of authenticity is especially relevant for LGBTQ+ employees, who often feel the need to hide their identity to better fit into the company or within their team. A mask that is often difficult to wear daily.
Which structure is more engaging, an organization where you have to hide who you are or one that accepts employees as they are?
In the past, I've been sitting in meetings with colleagues or clients thinking things like "What will I answer if they ask me about my wife?" These thoughts end up creating anxiety, which then take head space unavailable to truly connect with people and my job.

Édouard Bourgault-Parisé - IMPACT COMMITTEE, Proaction International
Thus, this space of neutrality, acceptance, and caring is essential for employees. Feeling excellent and accessible rather than judged and discriminated against, they will develop a sense of belonging and show more significant commitment.
Companies: productivity, innovation, and image
A Forbes Human Resources Council study found that companies with an inclusive culture are six times more likely to be innovative than those without. In addition, these companies are two times more likely to meet or exceed their financial goals.
How do inclusion and diversity positively impact business performance?
First, employees who feel valued, accepted, and trusted will be more engaged, motivated, and committed to the company's success. That means increased productivity, better decision-making, more creativity and innovation within the teams, healthier and more open communication, and thus better collaboration.
Fostering diversity and inclusion in the company: a summary of the benefits
Increased well-being at work

Increased employee engagement

Increased creativity

Improved talent retention

Improved decision making

Increased productivity
Culture of innovation

Improved brand image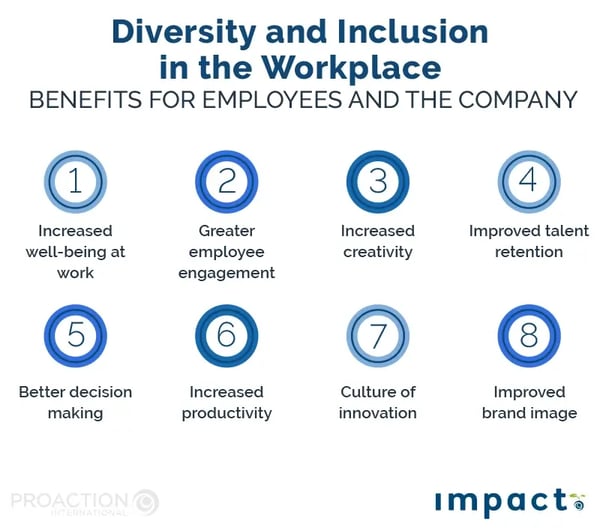 Fostering Inclusion in Your Team: 9 Best Practices
Creating an inclusive culture is essential for any team or organization. It starts with solid leadership. As a manager, it's up to you to create a safe and welcoming environment for all employees, regardless of their sexual orientation or gender identity. Leading by example with inclusive behavior and inspiring and educating your teams would be best.
Here are 9 tips on how you can support the inclusion of LGBTQ+ employees on your team:
Educate yourself and your team on LGBTQ+ issues and terminology. Understanding the language and culture of the LGBTQ+ community is paramount to creating an inclusive workplace. In addition, ensure that everyone on your team is open, caring, and respectful of each other's differences.

Establish a strong and distinct inclusion policy that clearly outlines how all employees must behave on this issue. Also, make sure that all other policies and rules are also inclusive. Finally, having a specific LGBTQ+ policy is a great way to show your values and commitment to fighting discrimination in the workplace.

Have a zero-tolerance policy in place for discrimination and harassment. Ensure all team members understand that zero-tolerance applies to discrimination or harassment based on sexual orientation or gender identity.

Encourage listening and discussion. Open the dialogue about diversity, inclusion, and respect for differences. That will help create a climate where everyone feels comfortable expressing themselves without fear of being judged or discriminated against.

Consider using inclusive language, both written and spoken. With this in mind, it may also be appropriate for those who wish to add its pronoun in email signatures and on their professional social networks. That will help avoid incorrect assumptions about gender and help transgender and non-binary people to feel at ease.

Provide your LGBTQ+ employees with a safe and caring environment to meet and share by setting up an LGBTQ+ network. It's a great way to show your support and get their perspective on improving your approach to this issue.

Don't ask minority colleagues to educate others; this could create unnecessary discomfort and tension. But, again, this is primarily the role of managers and leaders.

Adopt inclusive hiring practices in the writing of offers and during interviews.

Celebrate Pride Month (June), the

International Day Against Homophobia and Transphobia (May 17th)

, or other days that are particularly important to the LGBTQ+ community

by offering company events, workshops, or simply recognizing the contributions LGBTQ+ people have made throughout history.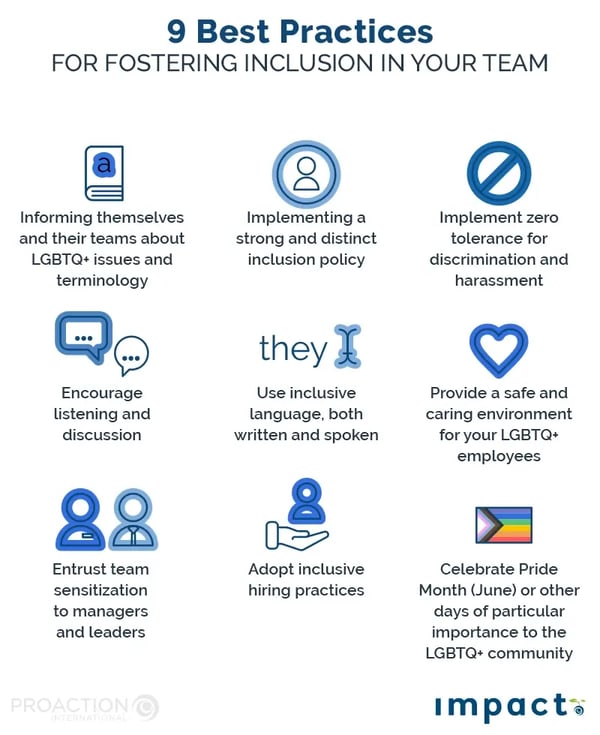 If you need help figuring out where to start or how to proceed, contact inclusion experts who can help you build good practices within your team. Another option is to offer LGBTQ+ training to employees in the workplace to ensure that everyone has embraced these principles of equality and diversity.
It is important to note that the goal here is to create a work environment where all employees are welcome. The idea is not to force people to adhere to an opinion or orientation but to respect each person's individuality.
Beware of microaggressions
Microaggressions against LGBTQ+ employees often go unnoticed in the workplace. That is because they are often subtle and unintentional, making them difficult to detect. As a result, they can build up over time and create an unwelcoming environment for LGBTQ+ employees.
Some examples include:
Assuming a person's gender identity or sexual orientation - It is important to remember that everyone's identity is theirs.
Using offensive language or slurs - Interactions like these demean LGBTQ+ people and create a hostile work environment.
Not using preferred pronouns - Asking someone for their preferred pronouns is a simple step that allows everyone to feel respected and included in the team.
As a manager, you must be proactive in preventing microaggressions in the workplace.
Here are some tips on how to do this:
Educate yourself and your team about the nature of microaggressions and their impact on people with different sexual orientations and gender identities.

Create a safe space for employees to feel comfortable reporting incidents of microaggressions in the workplace.

Ensure everyone knows the company's policies on discrimination, harassment, and inclusion of LGBTQ+ employees.

Ensure you create an inclusive climate in your team, a space where all employees feel respected, regardless of their sexual orientation or gender identity.
Ally programs: a powerful tool for Inclusive workplaces
BCG research has shown that Ally programs effectively promote inclusion by allowing heterosexual and LGBTQ+ employees to discuss issues in a safe and supportive environment. In addition, these programs help participants become culturally aware and know how to support their LGBTQ+ colleagues when needed.
According to the same study, those who have participated in these self-help programs are more likely to recognize discrimination than employees who do not have such programs.
Heterosexual participants are twice as likely to recognize discrimination. At the same time, allies (people who have participated in the program) are 3.3 times more likely to intervene when they witness such events or comments.
Guides and training offered to companies to promote the well-being of all at

work
There are several guides and training available to assist managers in inclusive actions. One such resource is the Global Diversity & Inclusion Benchmarks (GDIB) certification program, which provides organizations with a framework for managing diversity and inclusion within the company. This certification covers all aspects of inclusion, from corporate strategy to communication and employee training.
Leaders and managers can also use the online training "Diversity and Inclusion in the Workplace" developed by Essec Business School on Coursera. This training allows employees to become certified and understand the issues of diversity and inclusion within their company and provides tools to create an inclusive work environment for all employees.
The Emergence Foundation also offers a corporate training program.
Also, LinkedIn Learning offers a variety of training and learning opportunities for employees and leaders to develop their inclusive leadership.
Other easy-to-access online guides to help you promote LGBTQ inclusion at work:
It's important to note that each company has its own needs, so it's necessary to find the proper training and guides to meet the specific needs of each organization.
Using your status as a manager to make your company

inclusive
Despite significant developments in many organizations, the road to inclusion and diversity is still long. Much improvement is needed. It takes constant effort, but it is well worth it. Indeed, creating an LGBTQ+ inclusive workplace contributes to building trust, well-being, and employee engagement, making organizations more humane and successful.
Your role as a manager is not to change people's beliefs but rather to show leadership and help to change your employees' behaviors at work so that they become change agents. The long-term goal is to make inclusion not a benefit or an argument but a formality.
FAQ - Creating an LGBTQ+ Inclusive Workplace