Why invest in continuous improvement?
In management, encountering a problem is not considered a failure. On the contrary! It is, instead, an opportunity to improve.
With this in mind, becoming aware of an issue and finding a solution becomes a learning experience that creates value for the entire company.
With continuous improvement, everyone's responsibility, regardless of status or hierarchy, is to spot progress opportunities. At its core, this is what makes Toyota the powerhouse it is! A strength that gave birth to the Toyota Kata method developed by the American researcher Mike Rother. Each team member contributes to the business's success by identifying or recognizing improvement opportunities. In some cases, employees resolve the problem themselves. Otherwise, they turn to their manager to implement the solution.
Continuous improvement means getting suggestions and finding solutions to get better results. It's also about improving production quality, increasing productivity, and optimizing health and safety.
Important point: The company must create a structure capable of responding quickly to employee suggestions to avoid losing motivation and commitment. Continuous improvement also requires a good understanding of the issues on the part of employees so that the solutions remain realistic.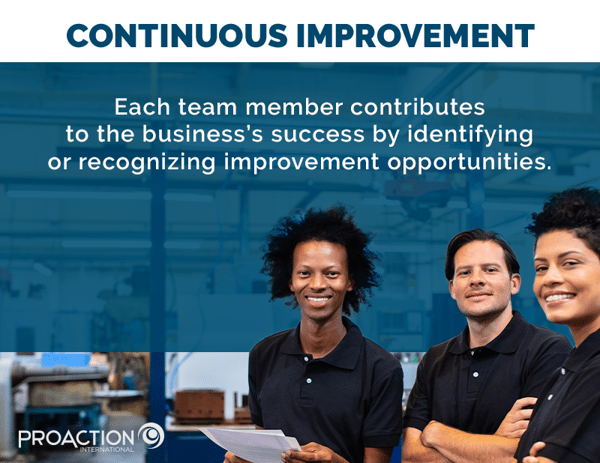 How to establish a culture of continuous improvement?
Creating a culture of continuous improvement requires a well-structured corporate culture for governance and leadership.
It's also crucial to encourage employees and involve them in the process through training. As a result, they become better at recognizing opportunities for improvement within the scope of their work.
In a continuous improvement culture, one of the manager's priorities is reinforcing this discipline in ALL employees. By communicating common and individual goals, everyone works towards a shared objective.