Urgent action needed to ensure survival
Low-cost production in emerging global markets is exerting increasing pressure on manufacturing companies in North American and European industrialized countries. They are now facing a critical need to act in order to enter the global race for cost optimization.
To respond to this growing competition and to consumer demand for quality products at a competitive price, manufacturers must now invest in technological tools.
So where does the manufacturing industry really stand?
To obtain a global vision of the manufacturing industry's digitalization, several firms have surveyed the leaders of these organizations in recent years. François Blackburn-Grenon, expert in digital transformation 4.0 at Digifab QG, notes that the verdict is pretty much the same everywhere:
Companies know and understand how important digital transformation is to increase the efficiency of their business. The intention to take the first steps is there; they now need to implement their first digital projects.
Which technologies to implement?
Industry 4.0 is characterized by interconnected systems and the leveraging of data for a more equipped and intelligent production than ever before. According to Digifab QG's expert, companies must not only improve their systems, but also, and above all, equip their employees at every level so they can make informed decisions through data valorization.
Here are the main technology fields to consider when undertaking digital transformation towards Industry 4.0.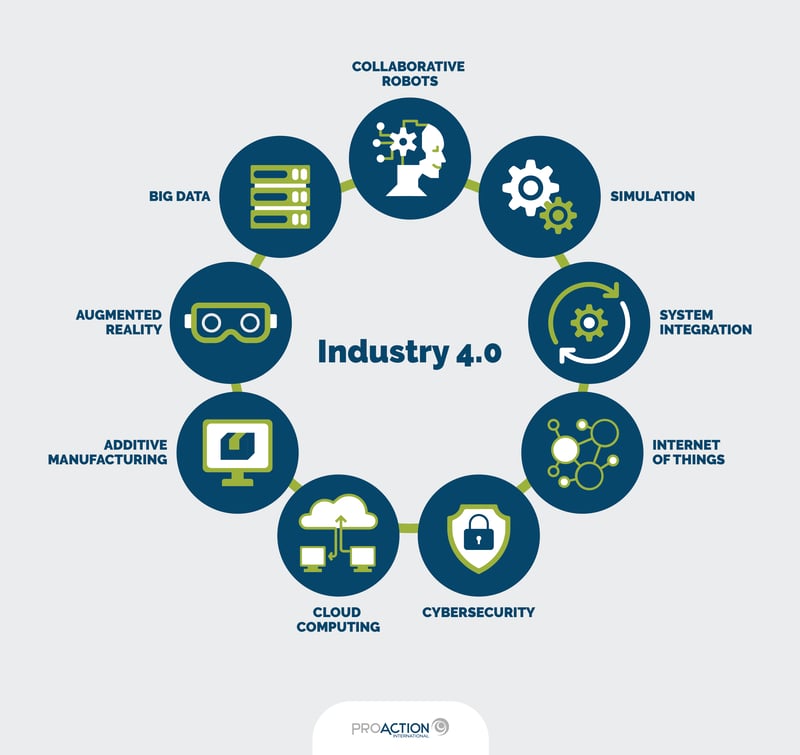 1. Collaborative robotics
Robotics have evolved dramatically over the past few decades and are now becoming more available to companies as a way to address labor shortages. Indeed, this technology supports increasingly complex maneuvers while opening the door to more value-added work for employees.
This could involve welding, painting or machining in conditions considered dangerous or too physically demanding for a human worker.
In Quebec, a growing number of companies now offer robotics solutions, such as Omnirobotics, RobotIQ, and ProAx, to name but a few.
2. Simulation and digital twins
Traditional simulation software mathematically models the behavior of a product or system before its final design. It can also help evaluate the feasibility of new concepts and is increasingly used for analyses requiring many factors, such as manufacturing processes, detailed metal characteristics and environmental variations.
Different scenarios under which a product could be used are tested simultaneously, and these simulations are then compared to the actual behavior in order to detect and prevent defects before they occur.
Digital twins, on the other hand, enable prototype simulations and iterations to continue once production is complete. The product or system's digital duplicate runs online behavior simulations from the data collected in real time by the original.
Many simulation integration companies, such as Siemens, Maya HTT and Simwell, enable manufacturing companies to take advantage of advances in simulation technologies to develop new business models for predictive maintenance, product development cycle, and so on.
3. System integration
A wide range of systems can be used to optimize the production of each phase of the manufacturing process. To manage the entire production chain and avoid the multiplication of information sources, a number of strategies are available, including:
The acquisition of software compatible with each other
The integration of existing systems
The integration of existing systems allows the optimal use and full exploitation of all systems. Integration allows the collection, sharing and processing of the data with which each of these systems operates.
Manufacturing companies can turn to specialists such as Alithya, CGI and Cofomo to guide them as they make the leap towards integrating their systems.
4. The Internet of Things
The Internet of Things (IoT), also known as the Industrial Internet of Things (IIoT), uses smart sensors connected to the Internet to collect information and store it in the cloud. The data collected can be used to monitor the condition of equipment, improve processes or optimize performance.
Many companies are leveraging data from the Internet of Things, including Intelligence industrielle, Konnek and Worximity.
This technology is now evolving by integrating artificial intelligence with data collection to become AIoT, or the Artificial Intelligence of Things. These tools enhance decision-making, for example by issuing recommendations.
The Internet of Things can also provide support to humans, as can be seen with applications such as UTrakk, which facilitates management tasks by equipping and assisting in training and coaching of teams.
5. Cybersecurity
The automation and digitalization of supply chains in general means an increase in the risk of a cyber-attack and the severity of the impact on your business.
Compliance with cybersecurity protocols can prevent an attack that could lead to consequences as costly as a total shutdown of the production line. Often overlooked when choosing a new technology to implement, cybersecurity must be one of the most important selection criteria.
Many companies offer cybersecurity services, often tailored specifically to manufacturing companies. However, François Blackburn-Grenon mentions that any good integrator must be able to comply with best practices in cybersecurity.
6. Cloud Computing
Since digital transformation relies heavily on data collection and analysis, data must be accessible and up-to-date.
Dematerialization in the cloud allows projects to be scaled up quickly by using cloud computing as needs arise (computing power, data storage, etc.). It also avoids manual entry and multiple versions, simplifies access to information and facilitates process optimization.
Cloud computing services such as Microsoft Azure and Amazon Web Service (AWS) offer a set of preconfigured modules to support you through the different phases of your digital projects.
7. Additive manufacturing (3D Printing)
With digital transformation, the manufacturing industry can leverage 3D printing to create parts and systems that are both lighter and stronger.
3D scanners or computer-aided design (CAD) software deposit materials such as plastic compounds and metal alloys in successive layers to "print" three-dimensional solid objects.
Traditionally used for proof of concept, additive manufacturing is now being employed in the production line by pushing the limits of part casting.
The process offers an interesting level of flexibility and efficiency in addition to increased performance.
Fun fact: Porsche used this technology to manufacture the pistons for its GT2 RS model.
8. Augmented reality
Used alone or superimposed onto the real world, augmented reality is making its way into manufacturing processes, for example, for assembly assistance and remote maintenance.
Companies can also use it to offer an immersive experience to customers in a demonstration context and for employee training. Some solutions even support factory and logistics personnel in their activities to improve the fluidity of operations and processes.
Today's market includes several commercial solutions, such as REFLEKT ONE and Vuforia from PTC, as well as augmented reality development software such as Unity.
9. Big Data
In order to support advanced AI analytics, a lot of data is needed, both structured and unstructured, in terms of volume, variety and velocity.
Big Data comes directly from the use of data from the Internet of Things, the integration of a company's different systems, and from the supervision and robot control systems.
It enables:
The improvement of manufacturing processes;
The design and production of custom products;
Supply chain management;
Performance and profitability measurement;
Improved customer service;
More accurate tracking of suppliers;
A preventive approach to maintenance to avoid complications.
Other external data that is relevant to analytics can also be transformed and leveraged in the cloud to enable simulation, digital twins, augmented reality, and many other applications.
Embarking on a humane technological shift
Manufacturing companies must enter the 4.0 era to remain competitive in the global race for cost optimization. Many technologies are available to help them optimize their processes, increase productivity and adapt to the new requirements of their target markets.
To take advantage of their full potential, these areas of technology must connect with each other to form what is known as manufacturing 4.0.
Beyond technological tools, the success of digital transformation lies in the centralization of people and the importance of change management. Remember, about 75% of technology projects fail to achieve their initial targets. To be successful, these industrial innovations must include the relevant work teams from the very beginning of the process.

François Blackburn-Grenon, expert in digital transformation 4.0 at Digifab QG
Putting people back at the center to prepare for Industry 5.0
While the beginning of the 4.0 era marked for many a headlong rush into automation, information digitization, and big data technologies, organizations have gradually realized that the success of technological projects relies mainly on a well-established management structure.

Gradually, the human element is becoming more important, and human skills are back in the spotlight. Some organizations are even moving towards Industry 5.0, where the human element is the mainstay of digital transformation.
The fifth industrial revolution is not only about technology. It is about harnessing the power of individuals and machines to create new opportunities, unlock value, and stimulate growth.

Jean-Philippe Raiche - Partner, Strategy and Development, Proaction International + UTrakk
A special thank you to François Blackburn-Grenon for his collaboration on this article. François is an expert in digital transformation 4.0 at Digifab QG, an industrial expertise center dedicated to helping companies and manufacturers understand and undertake the digital shift.
FAQ - Industry 4.0