What is the role of a frontline manager?
The frontline manager occupies a central position in an organization, acting as the link between senior management, employees, and sometimes even customers. They are also responsible for supervising the men and women carrying out daily operational tasks.
To be a frontline leader implies many responsibilities. Here are just a few examples:
Managing employee performance by providing constructive feedback, setting objectives, and evaluating results.
Solving problems concerning day-to-day operations.
Training new employees, thus developing skills within the organization.
Ensuring that the company's strategies and guidelines are implemented, respecting its vision, and ensuring that objectives are met.
Adopt the right behaviors for the proper context.
The role of the frontline manager presents many challenges. Not only must he assume his multiple responsibilities, but he must also strike the right balance between management expectations and employee needs. He needs to know how to keep teams motivated and committed while dealing with productivity, results, safety, etc.
This leader must also be capable of making important decisions under sometimes tight deadlines. At the same time, he must also have diverse communication and conflict management skills.
In addition to these many challenges and responsibilities, Gallup global analysis and consulting firm found that 70% of team commitment is influenced by managers.

All of which goes to show why training and coaching are so important for managers. In fact, these two solutions help to support the frontline manager, equip him properly, reinforce his expertise, and help him excel in his role.
The benefits of training for frontline managers
Training sessions benefit supervisors significantly, enabling them to assume responsibilities and fully deploy their leadership potential.
Let's take a look at some of these benefits:
Skills development
Training provides frontline managers with the practical skills required for their roles, such as time and priority management, communication, problem-solving, decision-making, and management.
It allows them to acquire the knowledge and techniques they need to lead teams effectively and achieve their objectives.
Improving productivity
Trained frontline supervisors know how to motivate their teams and make them more productive. They understand the importance of clear and transparent communication and can delegate tasks optimally. They also know the importance of recognizing success and encouraging the workforce they manage.
With training, team leaders can create a caring, dynamic, and effective work environment, increasing team performance and employee engagement.
Better adaptation to change
Training is an excellent opportunity for frontline supervisors to keep abreast of the latest trends, technologies, and best practices relevant to their work sector. By staying informed, they are better equipped to cope with change, more flexible, and at ease with new developments and challenges in their working lives.
In other words, training enables them to remain competitive and adapt to rapid changes in the market and the environment in which they operate.
Personal development
Training also has a positive effect on personal development. Indeed, it enables leaders to have better interpersonal exchanges, develop their emotional intelligence and sharpen their ability to resolve conflicts.
It also is essential to supervisors' self-confidence and relationships with their frontline employees.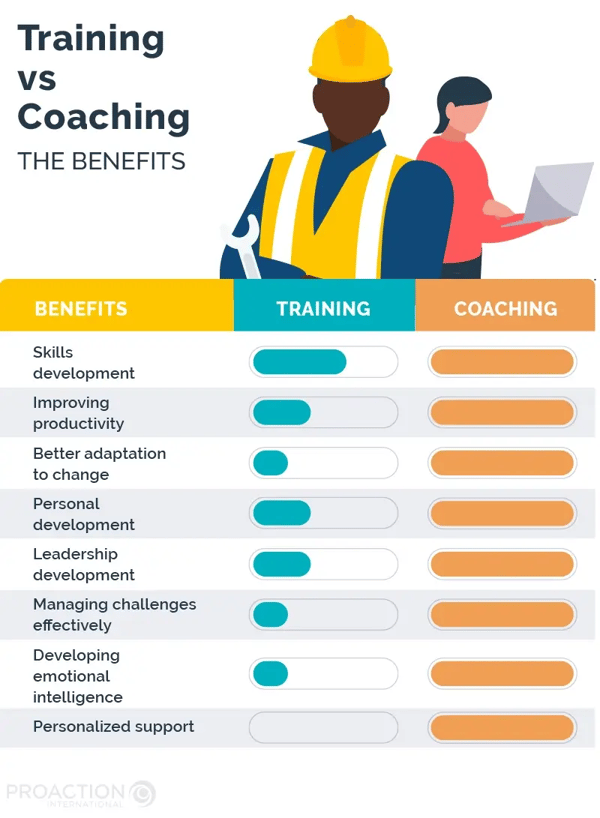 Coaching to enhance and perpetuate the benefits of training for frontline managers
Coaching is a powerful lever for supporting and sustaining the benefits of training for managers.
In addition, the presence of an external person who observes, comments, and supports supervisors in real-time, is the best way to bring a significant change in behaviors and sustainable results.
The coach can effectively transform knowledge into behaviors and optimize processes into work habits by assisting managers in their day-to-day tasks.
Their presence further deepens the good practices developed during the training, making them reflexes that allow the organization to achieve positive and lasting outcomes.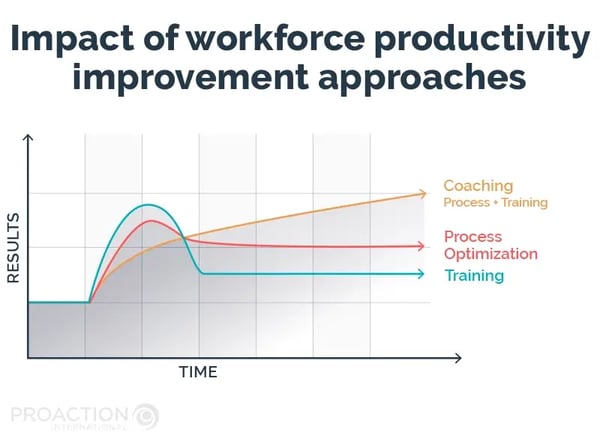 Here are some of the most significant benefits that coaching can bring to your frontline supervisors:
Personalized support
With coaching, managers benefit from personalized, one-to-one support that considers their needs. The coach will help the supervisor identify strengths and areas for improvement while devising a tailor-made action plan to enhance skills.
Coaching also provides supervisors a trusted space to exchange ideas with the coach and benefit from their advice and encouragement.
Leadership development
Coaching helps frontline leaders hone their leadership skills and put their team on the road to success by refining their vision, strengthening their ability to inspire and motivate employees, improving communication, encouraging them to take the initiative, etc.
Managing challenges effectively
The frontline manager is often confronted with more difficult phases than others, both technically and in terms of relationships. In a conflict between several employees, for example, effective frontline leadership can understand and defuse these conflicts.
Here, the coach will give him the tools to manage delicate situations and make the right decisions.
Developing emotional intelligence
Being a good leader means managing others and knowing how to handle yourself. This requires a certain degree of emotional intelligence. They must recognize and manage their emotions and behaviors and react appropriately to another person's emotions and reactions.
The coach is an excellent asset who will help establish more positive and healthy team relationships, foster collaboration, and increase employee satisfaction.
In short, coaching maximizes frontline managers' potential, helping them excel in their roles. It brings about a profound organizational transformation and has a very positive impact.
Top best practices for training and coaching frontline workers
To ensure the effectiveness of these two tools, here are five essential recommendations: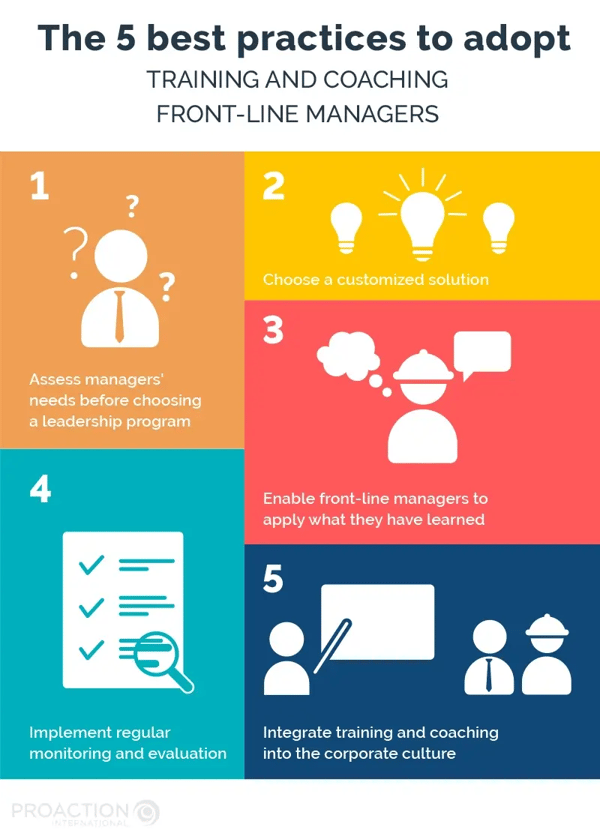 1) Assess managers' needs before choosing a leadership program
Why? That helps identify the skills to develop and the challenges managers face.
The assessment can be done using individual interviews, questionnaires, or skills tests. This step is crucial in designing tailored, targeted programs.
2) Choose a customized solution capable of meeting the individual needs of frontline managers
Why? Every supervisor has their strengths, weaknesses, and projects. Individualized coaching or customized training can optimize managers' professional development.
It is essential to consider their experiences, current skills, and aspirations to ensure the implementation of effective programs.
3) Enable frontline managers to apply what they have learned
Why? Experiential learning fosters a deeper understanding and helps adapt acquired executive management skills.
Encourage supervisors to apply the concepts and skills they have learned in real-life situations (case studies, role-playing, simulations, practical exercises, etc.).
4) Implement regular monitoring and evaluation
Why? Monitoring and evaluation will enable you to see how the programs perform with managers and make adjustments if necessary.
Evaluation can include feedback from supervisors or key performance indicators that provide a precise analysis of the impact of programs on individual and collective performance.
5) Integrate training and coaching into the corporate culture
Why? Enhancing the value of training and coaching, and making them more accessible, helps to create a positive corporate image, making the company a structure in which professional development, human qualities, and continuous improvement are essential.
Training and coaching: strategic investments for the company
As you can see from this article, frontline leaders are essential to the smooth running of a company. Like all human resources in a business, giving them what they need to do their jobs well is critical.
That is precisely the function of training and coaching. They will enable supervisors to acquire the necessary leadership skills, be equipped to positively influence team effectiveness, achieve organizational objectives, and meet challenges successfully.
Investing in training and coaching programs for frontline managers is a long-term strategic choice for organizations. Not only does it maximize performance, but it also contributes to the company's overall success while instilling a culture of continuous improvement.
FAQ - The importance of training and coaching for frontline managers