4. How to measure managerial knowledge?
Managers' formal knowledge of their roles and responsibilities is often overlooked when climbing the ranks of an organization. Yet it is a key indicator of a manager's decision-making ability and the quality of the leadership they provide their team.
Management Skills Index
Here are 5 main areas to consider when assessing managers' understanding of their roles and responsibilities:
Planning
Communication
Execution
Supervision
Continuous Improvement
By assessing the level of knowledge and understanding of more than 16,000 managers, Proaction International has come to the following conclusion: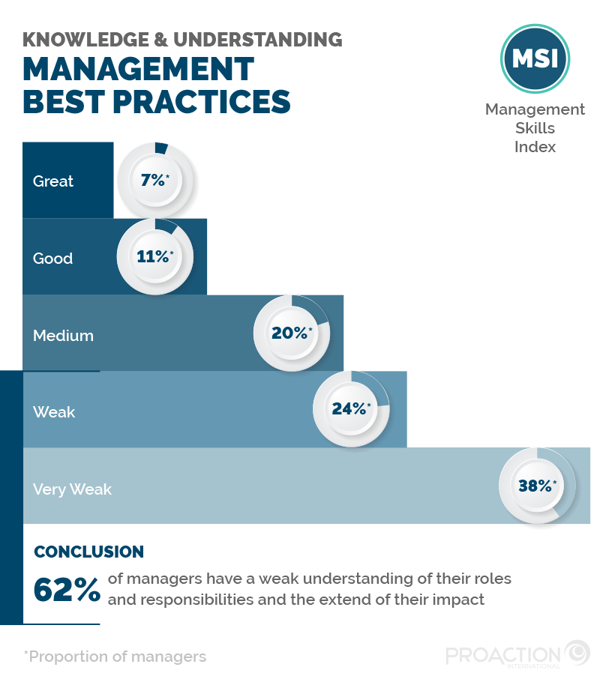 Proaction International has a working group dedicated to actively monitoring managerial best practices and over 15 years of experience with a panel comprising executives from across North America and Europe, all sectors combined (industry, distribution, logistics, tertiary, construction, etc.)
On average, 38% of first-line managers have very low knowledge and understanding of best management practices. 24% have a weak grasp of it.
Only 7% of first-line managers, in all business sectors, can say they have an excellent understanding of their role and management responsibilities.
Note: This does not mean that two out of three managers do not belong or have no potential!
How to interpret the management skills assessment?
The point is that first-line managers are mostly excellent field employees. For instance, the best assembly line operator or sales department representative was promoted without being coached on their role and proper behavior.
Result: they suffer long-term consequences, and so do their team members and the organization.
Measuring managerial knowledge can reveal gaps, sometimes significant, between management levels and even members of the same supervisory team.
These findings and individual progress provide rich data for developing, implementing, and revising training and coaching plans.
That's how we move on to leadership skills development.
Assess managerial knowledge to encourage positive evolution
These results are like a snapshot of the situation at a given moment. They do not predict what will happen in the future.
Nonetheless, analyzing how the results evolve can help identify trends and guide decision-making.
Implementing efficient training and coaching strategies allows for significant improvements in management skills. It also helps uncover high-potential managers who may not stand out from the start.
We have seen how critical theoretical knowledge is to management skills. A good manager, however, requires more.
After measuring managerial knowledge, we must evaluate the managers' know-how or quality of management.
5. How to measure the quality of management?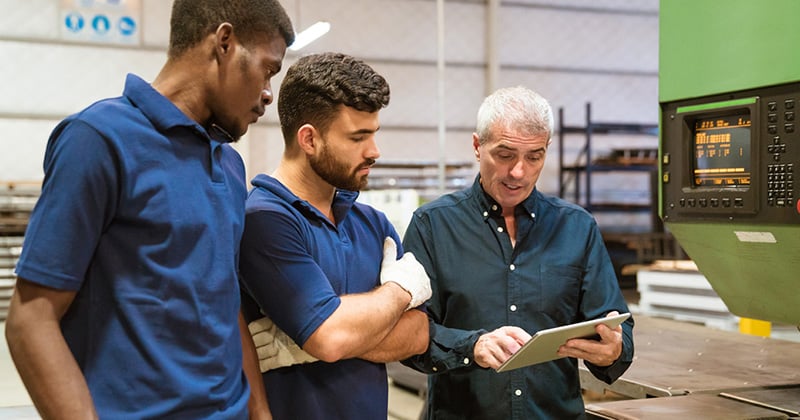 The next Key Behavioral Indicator concern know-how in the field, i.e. the daily management of work teams.
This management skillset can be assessed from two angles:
The amount of active supervision
Management effectiveness
Active Supervision Index
Managers have to pack a wide range of tasks and priorities into limited time.
A manager often does some manual work that staff should typically handle. Administrative tasks, email management, meetings, team planning, etc., are also tasks very time-consuming in a day or week.
Calculating the Active Supervision Index involves recording all activities performed in a typical day and classifying them into 5 categories:
Active supervision
Training and coaching
Administrative tasks
Manual work
Passive supervision
By calculating the percentage of time allocated to each category, you get the proportion of time actually spent on active supervision.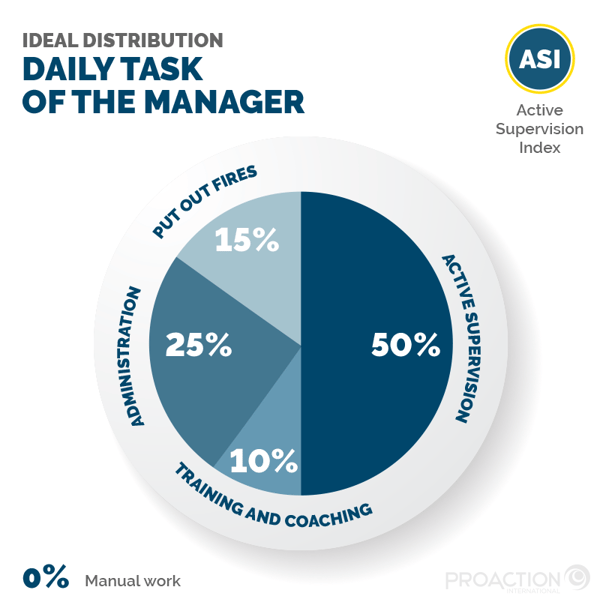 Managers generally spend most of their day on administrative tasks, meetings, and emergency management. This limits the time they can devote to high value-adding activities, such as:
Fostering team engagement;
Planning and orchestrating activities (active supervision);
Developing individual skills (training/coaching).
If managers can only devote 30 minutes a day to active supervision, they simply don't have time to go beyond basic management to invest in continuous improvement (5S, Six Sigma, Lean, etc.).
Therefore, measuring the quality of the manager's interventions in the field will clarify the value they create for the organization.
Management Effectiveness Index or Management Maturity
We have determined that the role of the manager is to capture performance gaps to guide their team to reach its full potential.
There are all kinds of performance gaps: human, methodological, technical, organizational, etc. So we need to measure the management behavior that creates value by capturing the gaps to improve performance.
Years of analysis and coaching with managers from various sectors revealed five main managerial maturity stages.
Management Effectiveness Index evaluates the level of managerial maturity to assist the development of essential skills.
Management effectiveness levels:
Task Assignment
Task Management
Measuring Performance
Resolving Variances
Proactive Management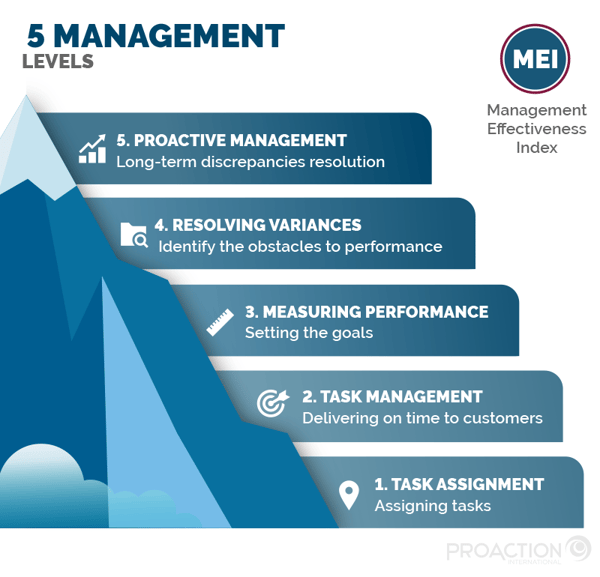 Level 1: Task Assignment
The first management step a new manager learns to perform is assigning their team to ensure everyone knows what to do. The concept is simple, but not all managers master it – think of some roadworks sites...
Level 2: Task Management
Once managers have mastered task issuance, they need to ensure customer deadlines are met. Here a competent manager might think, "We exist because of our customers, so I'll make sure we deliver what they need on time."
They will ensure team members are in the right place, at the right time, to achieve results and deliver the expected product or service on schedule.
Level 3: Measuring Performance
The manager feels responsible for improving performance and ensuring the organization benefits from delivering customer value. They now question what determines a "good day" to communicate it to their work teams and follow up on it.
Level 4: Resolving Variances
Having defined performance, the manager can move on to capturing discrepancies hindering operations' full potential and causing performance losses. They will seek to identify what prevents teams from generating better results and ways to adjust and correct the situation by capturing these variances (in method, flow, velocity, etc.).
**This is where the manager truly starts to create added value and drive performance improvement to transform and help the company to evolve toward the achievement of results.**
Level 5: Proactive Management
The fifth and final stage that a manager will reach - if they ever reach this level of managerial maturity - is proactive management. Noticing recurring variances over time, they strive to achieve long-term resolution by eliminating the root cause.
At this point, they become a managerial leader. This is the leadership style of high-performing managers who fully understand their role and responsibilities, drive team engagement, and generate sustainable benefits to organizational performance.
Developing managerial maturity
Measuring managerial maturity and added value, the Management Effectiveness Index is the ultimate behavioral indicator since it focuses on improving business performance.
Improving performance involves capturing the gaps between potential and reality. Managers bring reality closer to the ideal by reducing non-value-added in the organization.
As the managerial effectiveness improves - from tasks issuance to proactive management - so does the organization's performance. This transformation leads to huge gains, not only in financial terms but also on human and strategic levels.
Some of the gains related to better management:
Labor cost savings
Health and safety
Material yield
Team engagement
All other strategic gains related to managerial skills
6. Improving management skills to drive performance
Using Key Behavior Indicators (KBIs), such as the Management Skill Index, the Management Effectiveness Index, and the Active Supervision Index allows for a more tangible assessment of leadership skills.
Managers who understand their roles see the added value of regular and quality involvement with their team.