The three W's - Minimal goal
SMART goals are the absolute example for optimal performance, but it is not always possible to formulate objectives this way.
The three W's method, which is simpler and quicker than SMART goals, can also lead to quite respectable results.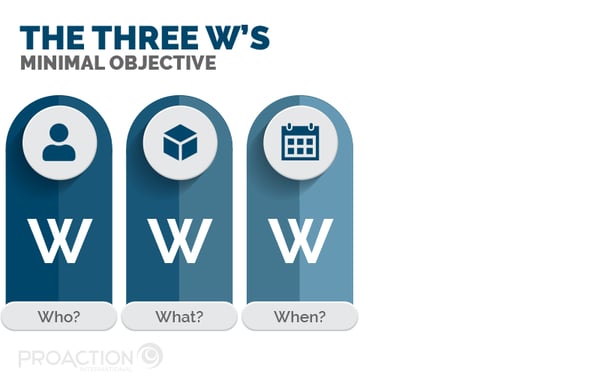 This method is based on three questions:
Who? — Who must perform the action or achieve the desired result?
What? — What is the action or result?
When? — When will the action or result be performed or achieved?
COMMENT: The goal-setting process should also be integrated into your employees' professional development plan. Having these goals set will make it easier for your team's daily performance management and measuring progress when it comes to their performance review.
Expressing your appreciation
Managers must not only be able to communicate clear goals, but they must also be able to give feedback according to those objectives. These are what we call consideration factors.
Communicating goals is important, but so is valuing the employees who work to achieve them.
What are consideration factors?
The consideration factor is primarily a value-added exchange between two people that involves encouraging and recognizing employees in the workplace.
There are several ways to express appreciation, whether verbal, gestural, or physical. From a simple "thank you" to formal recognition.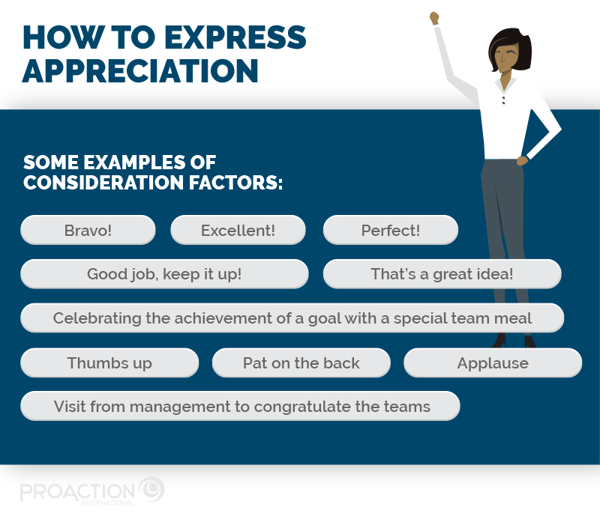 Why do you need to express appreciation?
Frequent, sincere expressions of recognition boost employee engagement and encourage good behavior while creating a sense of pride among team members. This makes them want to go above and beyond and repeat good performances.
By demonstrating their ability to acknowledge the team's efforts, the manager develops a relationship of trust with their team based on objectivity thus reinforcing their leadership, increasing teamwork, and achieving a higher level of team engagement.
In addition to easing relations, expressing appreciation generally encourages positive moods in those who give and receive acknowledgment!
Negative consideration factors
While positive expressions of appreciation have a huge impact on employee engagement, the business will in turn pay the price for insensitive criticisms, or even insults, between members of an organization. Just like positive consideration factors, negative ones can be delivered in a variety of ways:
Verbal: "Rubbish" "Idiot." "Are you still not getting it?"
Through gestures: Giving the finger, sighing, rolling the eyes
Physical: ignoring the other person, rushing them
Although they may seem benign or trivial at the moment, these words and gestures can lead (quickly or over the long term) to a decrease in performance in terms of speed, quality, lost time, etc. In fact, they are responsible for the collapse of the trust relationship between colleagues and a working environment that does not favor solutions.
Finally, such kind of atmosphere can even lead to the erosion of commitment in terms of creativity, belonging, and positivity.
Settings goals and expressing appreciation go hand in hand
We are talking about the notion of proactivity and rigor with these two key management reflexes.
During an active supervision tour, which on average only represents 7% of managers' time, they struggle to give good goals and demonstrate appreciation towards their teams. Increasing the amount of time spent in quality contact with employees to 50% and standardizing the work of leaders expands the window of opportunity for giving objectives and recognition.
Likewise, when managers are made aware of the importance of communicating goals and giving recognition, they tend to be more proactive on both fronts, taking time to prepare for this before meetings with their team, for example.
By confirming whether the goals given during the last meeting have been achieved, they can express their appreciation for the employees involved, and so on. It becomes like second nature for managers who set out on this path.