What exactly is emotional intelligence?
Emotional intelligence (EI) refers to an individual's ability to perceive, understand and manage their emotions and those of others. It also means knowing how to express one's emotions honestly and constructively. All this helps us to interact better with other human beings and adapt to the ups and downs of everyday life.
In the 1950s, Abraham Maslow, to whom we owe the famous pyramid of needs, first spoke of "Emotional Strength." Later, this concept evolved, and we began to talk about emotional intelligence.
But it was in 1995 that the term came into its own when American psychologist Daniel Goleman popularized it in his book Emotional Intelligence: Why it can matter more than IQ. He published several other works on the subject, particularly explaining that EI helps strengthen your leadership qualities. He is the author of the central leadership styles.
For Daniel Goleman, emotional intelligence is a crucial success factor:
What counts for success, character, happiness, and lifelong achievement is a precise set of emotional skills, not just purely cognitive abilities.
Why is emotional intelligence necessary to be a good leader?
The numbers
According to the World Economic Forum's 2018 study The Future of Jobs report, emotional intelligence, leadership, and social influence are experiencing a sharp increase in demand compared to their current importance.
Another study conducted this time by Linkedin in 2019 revealed a fascinating fact: soft skills (emotional intelligence, empathy, communication, creativity, etc.) can make or break a hire and can also make or break a company.
According to this survey of over 5,000 professional talents in 35 countries, 92% of hiring managers say that these soft skills are as essential, if not more important, than technical skills when hiring, and 80% say that they are increasingly contributing to a company's success.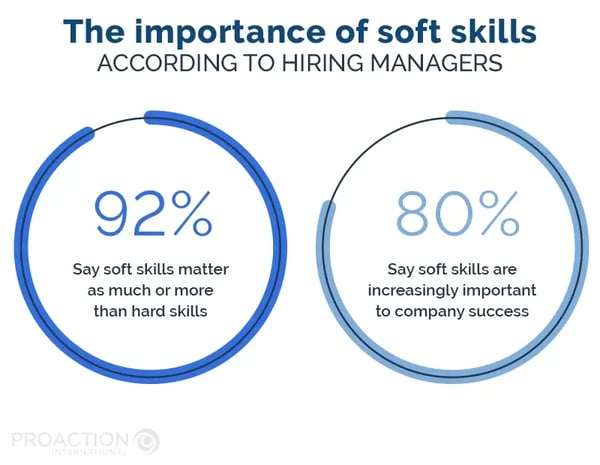 High emotional intelligence and leadership: a recipe for success
Let's start with a simple comparison between two leaders:
On the one hand, a leader devoid of empathy, giving orders without listening to his employees and shouting at them when things don't go his way.
On the other hand, a leader who listens expresses himself calmly and clearly and remains in control of his emotions.
Who do you think will get the best long-term results?
In a problematic situation or during a period of significant change, the atmosphere in the workplace can become overwhelming, giving way to stress and negative emotions. However, a harmful environment can be significantly improved or even avoided when the company is run by a leader endowed with great emotional intelligence.
But this ability isn't just useful in times of crisis; it's essential daily, enabling the organization to maintain a healthy, caring climate in which employees feel confident to give their best.
In the workplace, Goleman's research has shown that EQ (emotional quotient) is more important than IQ (intelligence quotient). Emotional intelligence positively influences leadership roles, teamwork, employee engagement, stakeholder interaction, and human resources management. All this regardless of the industry.
"CEOs are hired for their intelligence and business expertise - and fired for their lack of emotional intelligence."

Daniel Goleman.
Emotions impact thinking and decision-making. As a leader, taking the emotional factor into account will help you to effectively lead your teams, better manage stress, and better communicate and collaborate with the workers around you.
According to Daniel Goleman, work environments that cultivate empathy and emotional intelligence are more creative, and productive, and make problem-solving easier.
The critical skills of an emotionally intelligent leader:
Have good self-awareness;
Be able to manage emotions;
Have self-confidence;
Practice active listening;
Demonstrate empathy;
Show adaptability;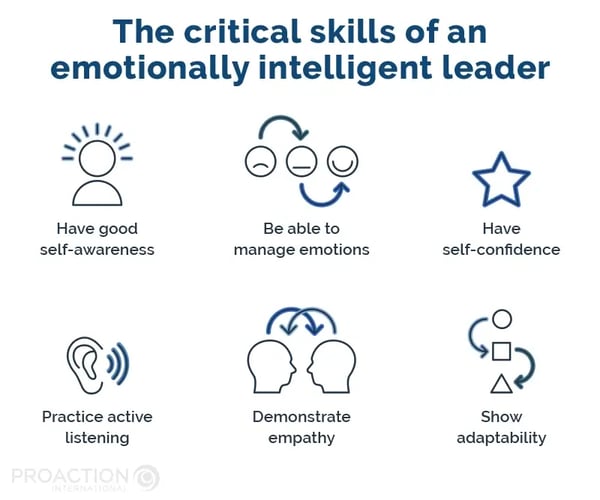 Leadership is not domination, but the art of persuading people to work toward a common goal.

Daniel Goleman
How to integrate emotional intelligence into leadership skills
According to Goleman, there are four fundamental principles of emotional intelligence. These are the ones you need to incorporate into your leadership style.
1) Self-awareness
Self-awareness involves recognizing your emotional state. You need to know what you're feeling, welcome positive and negative emotions, and perceive their impact on the people around you. Beyond the feelings themselves, this also involves knowing your strengths, weaknesses, and character.
Being fully aware of these traits that build you up enables you to make informed decisions and develop self-confidence.
Finally, you need to be able to use these emotions and strengths to inspire, to lead your teams in the best possible way.
Example:
In a sudden, unplanned change, pause and breathe. Analyze your immediate reactions, their triggers, and how they may impact others.
Evaluate your options for dealing with the change. Once you have a clearer picture, you'll be able to make a decision based on your values and objectives rather than on stress or fear.
2) Self-control
Self-control, or self-management, comes directly after self-awareness. It refers to managing emotions, i.e., your ability to remain in control, particularly in difficult and stressful situations.
When you know yourself and know that you influence your employees, controlling your emotions is essential so they don't affect others. You are responsible for your words and actions, so it's vital to know how to manage them to communicate with others best.
Example:
In the case of a conflict with an employee, don't react immediately out of emotion or ego by verbally attacking the person or making an impulsive decision.
Take the time to pause and reflect on the situation objectively. What exactly happened? How can you calmly resolve the problem? Let the emotion subside calmly, then take the necessary action.
3) Social awareness
In addition to getting to know yourself and managing your emotions, EI also involves a larger dimension: detecting the feelings of those who work with and for you. We're talking about empathy, an essential skill for engaging your employees.
As a leader, you need to be able to put yourself in other people's shoes, decode their body language, and understand their needs, motivations, and obstacles.
You must be able to support them and give them an honest point of view when something is not working while remaining respectful. This is how you'll create a harmonious and healthy working environment.
Example:
You need to announce a new strategy for your organization. When you talk to your team, pay attention to their behavior. Sighs, downward glances, silences, and other such attitudes are essential, as they show that your employees are not receptive to your message.
In this case, engage in open dialogue, asking them questions about their feelings, needs, etc. Show that their opinion is essential and that you're willing to listen.
Emotional intelligence doesn't simply mean 'being nice''. At a strategic moment, it may require not being 'nice,' but rather, for example, ruthlessly confronting someone with an uncomfortable, but fraught truth.

Daniel Goleman
4) Social skills
Relationship management comes close to social awareness but doesn't mean the same thing. This 4th point concerns developing a leadership style to maintain good interpersonal relations with your employees and collaborators without letting them walk all over you. To do this, you'll need good social and management skills.
So, as a leader, you need to have a certain ease with people, know how to deliver good and bad news and communicate correctly. You need to inspire, motivate, and influence others and lead and resolve conflicts tactfully when they arise.
Example:
If a team's performance has slipped over the last few weeks, don't immediately blame the people concerned. Instead, explain the situation diplomatically, then start a dialogue to try and understand what has happened without accusing.
Once everything is more precise, express your thoughts transparently. Then, communicate humanely and constructively so things improve and the problem doesn't recur.
In the opposite direction, remember to congratulate your teams when they achieve good results rather than taking things for granted.
If your emotional capacities are not mastered, if you are not self-aware, if you are not able to manage your distressing emotions, if you cannot empathize and relate effectively, you will not get very far, no matter how smart you are.

Daniel Goleman
In addition to these four key points, emotional intelligence also involves motivation. By this, we mean your ability to enjoy your work for reasons other than money or power.
A person with EI draws energy from what they do, feeding off their actions and achievements and learning from their failures. They constantly seek to improve and learn while appreciating what is already there. Likewise, it can transmit this optimism to its employees.
As a leader, the more you master these points, the higher your emotional intelligence. For some scientists, emotional intelligence is an innate trait theory; for others, it's a concept that can be learned and perfected. Coaching is an excellent way of developing and applying these fundamental attitudes daily in the workplace.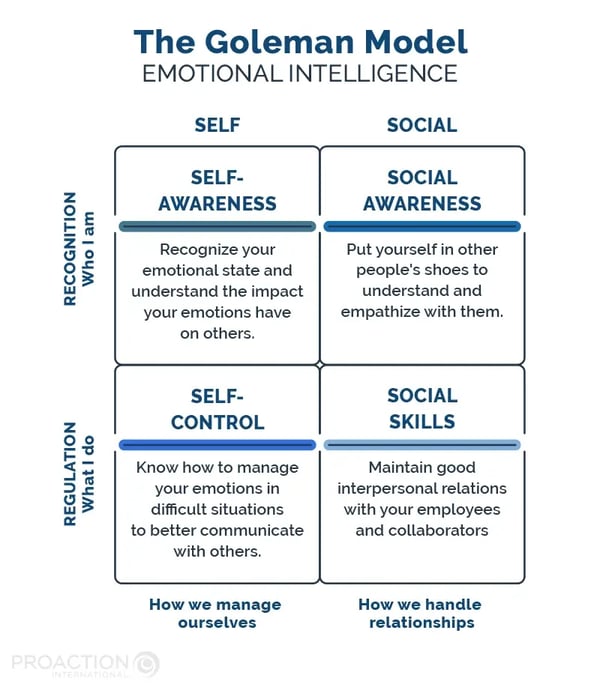 Using emotional intelligence as a performance lever
As a leader, you set the example and the direction. How you do this is crucial because it will determine your employees' behavior and state of mind and the quality of their work.
Conscious leadership and emotional intelligence are prerequisites for your company's success. You can have excellent technical skills, but if you don't know how to communicate and interact with others, they won't be enough for the long-term success of your business.
People are at the heart of everything. Whether it's motivating, positively influencing, engaging, fostering creativity, innovation, mutual aid, or collaboration: IE and performance are intrinsically linked. They are learned and cultivated together every day.
Talented leadership happens when heart and head - feeling and thinking - meet. These are the two winds that allow a leader to soar.

Daniel Goleman
FAQ - Emotional Intelligence For High-Performance Leadership