Back
AIRBUS transforms its management culture and boosts performance at its Mirabel plant
Aerospace companies operate in an industry where labor is scarce and production must continually adapt to demand while maintaining rigorous quality standards. State-of-the-art tools and systems can undoubtedly help improve their performance or grow their business.
However, for these sophisticated tools and systems to deliver the expected long-term gains, the organization must have a solid foundation. That is why the Airbus Mirabel plant has chosen to invest in its management teams to optimize the final assembly line of the A220 civil aircraft program.
To capture the full potential of an organization, all employees must be mobilized. And to achieve this, the first level supervisor has an important role to play. The natural step for us, here at Airbus Canada, was to offer them a helping hand to fully understand their contribution and get the best out of the organization
—Jean Piette, A220 COO, Airbus Mirabel
A major challenge
To undertake the transformation of their managerial culture, over 100 plant supervisors, department heads, and operations managers had to get on board to adopt the best management behaviors and processes. An intervention on such a scale required alignment in both planning and implementation.
By establishing clear objectives and tightly managing the process with an effective communication structure, members of the different teams, departments, and shifts became more aligned, well beyond the process itself.
This alignment has become a powerful force for driving performance from operations to the entire organization, and the bottom-up approach provides benefits at every level of management.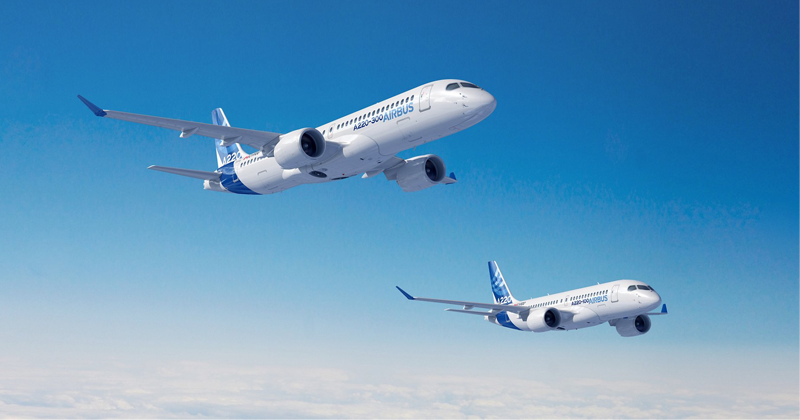 As the headquarters for the A220 family of civil aircraft program, the Airbus plant in Mirabel (QC, Canada) handles the main final assembly line for the program.
Investing in front-line managers and valuing their role
For the production line supervisors, this was a real sign of trust by the organization. The plant management chose to invest in them by offering the coaching and support that would allow them to acquire a level of mastery of their role and better perform as managers.
It's extremely rewarding! I really felt that I could and should take advantage of the coaching to improve myself. Being part of a company that invests in its employees and believes in us really is an uplifting experience.
— Marc-Olivier Hunter, Supervisor, Airbus Mirabel
Sustained support to unlock the full potential of individuals
In highly specialized organizations such as Airbus, proximity managers often have impressive technical expertise, but very little management training. The Proaction International team evaluated the management skills of 90 supervisors to offer them a personalized coaching program.
We built coaching plans based on their strengths to develop the right managerial reflexes and generate performance across all pillars of the organization. Subsequently, we deployed a team of 12 coaches to support each of the supervisors by shadowing them in their active supervision activities.
— Marc-Olivier Desparts, Project director for Proaction International
Over a period of up to six months, they received real-time coaching on their interactions with their team members to enable them to acquire the right management behaviors and engage their teams.
With the support of Proaction International coaches, the supervisors designed tools to assess daily operational efficiency in order to capture and resolve gaps and thus drive performance in their teams.
Training tomorrow's leaders
The supervisors, many of whom are in management roles for the first time, have become more confident in their abilities, more accountable, and have developed a strong team dynamic based on mutual trust and collaboration.
It is this passion and commitment that most impressed Proaction International's team of experts who supported the Airbus managers in this process. "An example of perseverance and agility." "I have rarely seen a group of supervisors have so much fun in their daily meetings." These are the first words that come to Marc-Olivier Desparts and his team.
For Marc-Olivier Hunter, the approach represents an effort that gave him wings when he was just starting out as a supervisor.
You have to be very open to changing your routine and doing things differently to move forward. I'd say I'm leading the change! The approach gave me a work structure, and this helped me inspire confidence in my colleagues.
People as a performance driver
For the operations management team, the management structure implemented to monitor the final assembly of aircraft in real-time has led to improved control of performance through a more proactive and humane approach.
With supervisors and department heads dedicated to identifying and managing performance issues, operations managers have gained more specific knowledge of the field that allows them to better anticipate problems that may arise. They can then take the necessary actions to optimize the different performance axes in a proactive, preventive, and sustainable way. Among other things, the approach has led to improvements regarding the health and safety of workers.
With less time spent putting out fires on a daily basis, operations managers can also put more energy into developing the skills of their first and second-level managers. Kevin Hébert and Maxime Tremblay, operations managers in Assembly and Pre-Flight, respectively, note that they are now able to identify development opportunities within their teams and take action to drive the necessary changes and improvements.
For them as well, the organization's investment in building a strong management force is a source of pride. They are involved with their teams and their collaboration leads to more initiative and creativity in problem-solving.
I am proud of our service managers and supervisors who have taken on the challenge of growing as leaders for their teams.
— Maxime Tremblay, Pre-Flight Operations Manager, Airbus Mirabel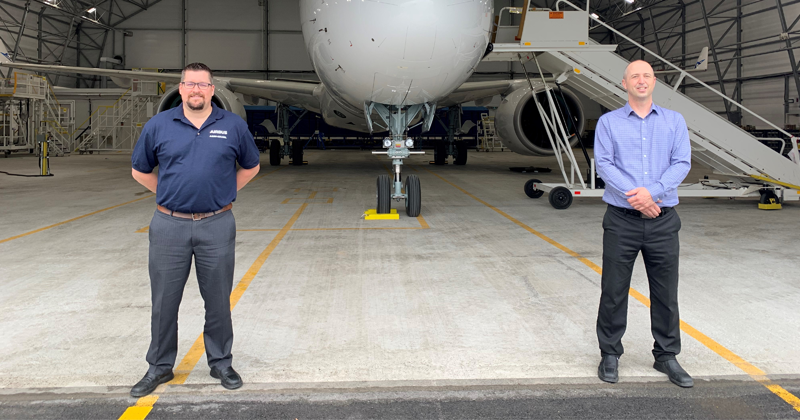 Kevin Hébert and Maxime Tremblay, operations managers in Assembly and Pre-Flight
Repercussions all the way to the top
Implementing the best management behaviors at all levels of leadership implies an improved distribution of tasks and responsibilities, which increases the quality of management on the production line and liberates managers higher up in the organizational structure. This liberation translates into a greater capacity to develop the strategic vision of the organization.
You can get results doing things the wrong way, but it will only last for a while. KBIs are extremely important to ensure high-quality management that enables a good atmosphere, team engagement and sustained performance over the long term
— Jean Piette, A220 COO, Airbus Mirabel
The Mirabel plant has seen productivity gains in terms of hours per plane, supervisors, department heads and operations managers are more confident in their abilities and employee engagement has improved. All levels of management are aligned towards a common goal and take great pride in their achievements. The Proaction International Team