Back
The 4 types of leadership in management
Leadership style is one of the most influential factors when it comes to employee engagement. Even more so than salary or autonomy, which also figure in the top drivers. In fact, the main reasons why people leave a company have to do with their immediate superior and not the company as a whole.
So, let's review the four main types of leadership found in managers and the impact of their management style on their teams' performance.
Technical Leader

Conqueror Manager

Peacemaker Manager

Managerial Leader



The Technical Leader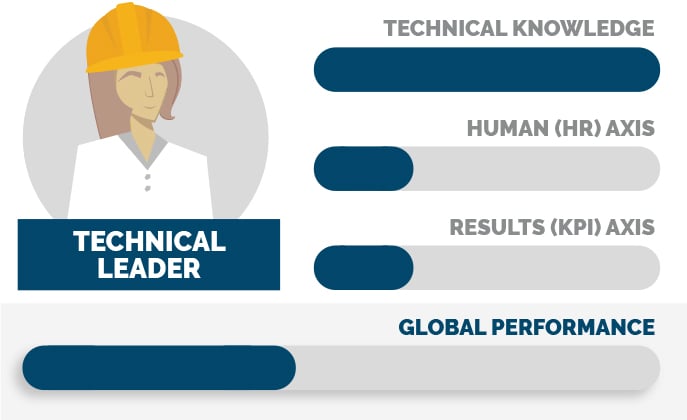 This type of leadership is very common among managers who used to be employed in operations themselves and is based on excellent knowledge of the field, equipment, products, and processes.
Technical leaders provide a wealth of information for their team members and represent the ultimate point of reference for the technical performance of the activity. However, simply understanding their team members' work and the conditions in which it is done is not enough to mobilize their troops.
Managers who fit this type of leadership tend to get too involved in their team's activity, saying "leave it, I'll do it," to continue creating value rather than helping the people they are responsible for to do so. Far from a lack of interest or conscientiousness, this is generally down to a lack of clarity about their manager role and inadequate support when new managers are promoted.
The Conqueror Manager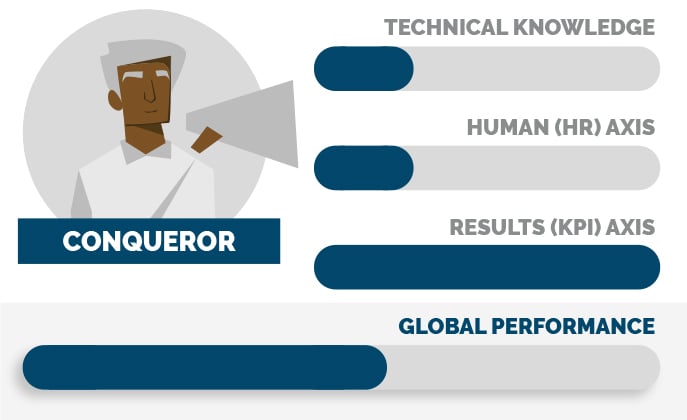 Characterized by high expectations and a directive tendency, for the conqueror leader, what matters is the performance at all costs. Although useful in a crisis, when there is an urgency to obtain concrete results, this leadership style should be used sparingly when attempting to build a culture of continuous improvement, such as a coaching culture.
Indeed, in their exclusively results-oriented vision, the conquering manager tends to overlook human relations and the organization's long-term vision.
The lack of consideration and the frequent use of disciplinary measures can lead to latent frustration within the teams, leading to a drop in employee engagement and – in the long term – a record turnover rate.
Moreover, employees rarely come forward with suggestions for improvements in such an atmosphere, fearing being ignored or even dismissed.
The Peacemaker Manager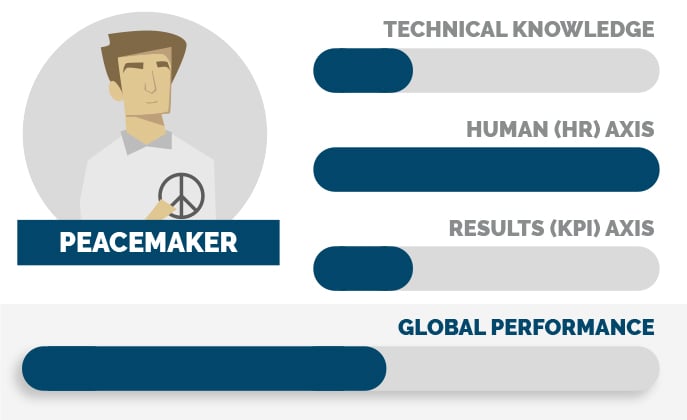 Gifted as a good listener and quick to show gratitude to their employees, this type of manager creates a positive working environment where everyone is encouraged to express their ideas.
However, the peacemaker manager tends to forget to take account of their team's achievements on the performance axes (productivity, quality, health & safety, etc.). This leads to situations where the deliverable is insufficiently measured and/or evaluated.
As the polar opposite of the conqueror manager, the peacemaker manager has trouble giving clear targets and ensuring everyone understands their accountability within the organization's performance. Faced with this lack of alignment with organizational objectives, their team members often have trouble prioritizing their activities and time.
The Managerial Leader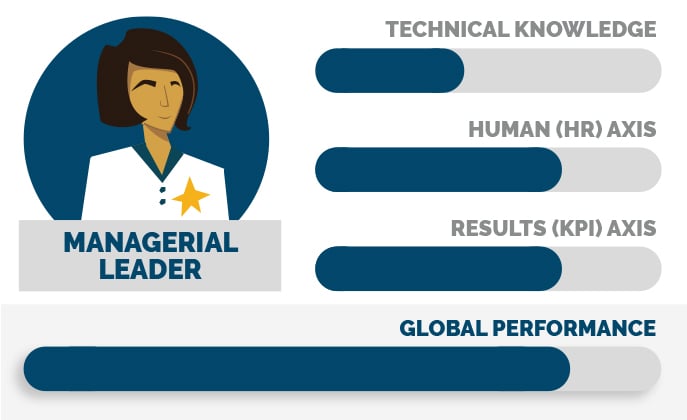 As you may have guessed, the objective is to develop leadership as a management style to achieve balanced management.
The managerial leader knows how to encourage their team and motivate their employees. They give as much importance to their team members as to performance. A managerial leader understands their role and responsibilities within the organization and becomes a driving force for engagement, which brings long-term benefits to the organization's performance.
Measuring management behaviors to progress as a leader
To evaluate your management style, two key behavior indicators (or KBIs) can be monitored concerning your orientation toward performance and consideration for your team members. Although simple in theory, this involves two important areas of work that managers generally find difficult to integrate into their daily interactions.
Indeed, giving clear objectives to team members and acknowledging good work in every management interaction, such as an active supervision tour, requires rigor that can be developed through awareness and appropriate management coaching.
---
To adopt the best management behaviors into your everyday work, the support of a coach can make all the difference in the long run. Proaction International executive and front-line management coaching experts have been helping managers from all kinds of organizations become better leaders for their teams since 2004. The Proaction International Team