Develop leadership to do better, together
To help managers throughout the organization develop their leadership based on their respective roles and responsibilities, Proaction International's experts conducted two types of management coaching. They also trained a team of leaders charged with keeping the approach alive.
Leading the way with confidence
Senior executives had periodical one-on-one coaching sessions to develop their strengths, refine key elements of their vision and develop strategies for dealing with particular challenges.
Get involved, create accountability, and create engagement
Coaches supported proximity managers, such as supervisors and team leaders, in their everyday schedules to help them better understand their role in driving performance. This personalized coaching focused on processes, operationalization, and human interactions.
Through this approach, managers have adopted new management practices, such as ritualized active supervision tours. By speaking to employees in charge of each shift several times daily, the managers better understand their teams' reality. They built a more effective problem-solving and scouting dynamic than ever before.
The daily pursuit of continuous improvement
A team of resourceful leaders known as "proactors" has also been created at each site to support the first-line management teams adopting and maintaining best management practices.
We've created a fantastic team of proactors to become continuous improvement catalysts that take the lead and color the people we coach with our vision for continuous improvement – a term we learned through Proaction International that I really liked.

Mathilde Giffard ChatelainHealth, Safety and Environment Project Leader
This team of coaches and continuous improvement leaders have developed a strong engagement dynamic and a knock-on effect in the organization. These "continuous improvement catalysts" have become a great source of pride and a sense of belonging for the managers involved.
At the Sainte-Croix factory, South Shore Furniture successfully eliminated silos between teams. They also empowered them with accountability for organizational performance by redesigning the new product development process, setting up a weekly inter-department alignment meeting, and developing performance indicators. 75% of factory employees have taken part in the process, which is a massive commitment considering a site this size.
We are one and the same company, and our only wish is to satisfy our end customer.

Ludivine GietProject manager, New product development
The results are there
At South Shore, the evidence is clear: everyone wins with reinforced leadership and efforts directed towards problem-solving at the execution point.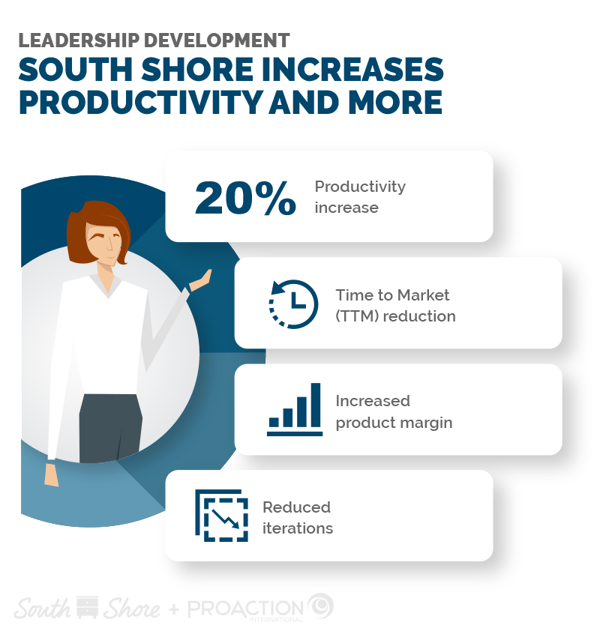 That's what we're incredibly proud of; no one is working harder. We're working smarter; it's as simple as that

Érika CharronDirector of the Coaticook factory
On top of a 20% increase in productivity in Sainte-Croix, the company reports:
Reduced time-to-market
Increased product margins
Fewer iterations required
Encouraged by the approach's impact on performance and engagement of all involved, the organization has taken the initiative to deploy a sustainability approach to maintain its strategic gains, such as:
Improved collaboration between teams
The elimination of inter-department silos
Teams' accrued engagement level.
What did the managers take away from it?
After working in tandem with the experts at Proaction International to develop their leadership and optimize operational processes, South Shore managers came out motivated and transformed by what they'd learned.
Personally, the process has allowed me to really develop a routine with my people, a contact with them.

Simon LagueuxManager
Through active supervision tours, managers developed more human and regular contact with the teams to monitor performance elements and their well-being and guide them toward taking on a high level of engagement. These encounters are a privileged moment to offer alignment through clear objectives and to show sincere recognition.
It's also to identify people who are driving forces in the business and ask them for feedback. I found that that connected everyone in a truly positive way.

Mathilde Giffard ChatelainHealth, Safety and Environment Project Leader
Another critical aspect of this leadership culture is openness to seek feedback from various colleagues to constantly self-improve. Thanks to coaching and a genuine desire for continuous improvement, today, the teams show a greater initiative for solving the challenges they face.
Nowadays, we steer a project where everyone works in the same direction."

Ludivine GietProject manager, New product development
By offering its managers expert support to develop their leadership and management behaviors which put people at the heart of performance, South Shore has created a movement in which everyone is committed to contributing to the organization's success.